Tracie from Cleverly Inspired shows how to make a roll-up travel organizer to keep your necklaces from becoming a big ol' jumbled mess.  The design is cleverly simple – just a fabric mat with Velcro to keep it closed.  Go to her tutorial.
[photo from Cleverly Inspired]…
When I refashion a t-shirt, I often end up with the sleeves as scrap.  Do you?  Agy from Green Issues shows how to put them to clever use.  She uses the leftover sleeves to add in-seam pockets to a skirt or dress.  Go to her blog for the tute.
[photo from Green Issues]…
Music can make or break a good party. Make sure your music is being heard with this wireless Audio system. Simply screw them into your light bulb socket and run your iPhone or ipod.  GiiNii Audio Bulb $299.99
…
Dress up those plain old buttons with some stamping and heat embossing, Your Next Stamp will show you how.
-Heather…
This cute doable "Faux Felted Water Bottle Bracelet" comes from "Fave Crafts" and was created by Heidi Borchers and she has a good pictorial tutorial.  There is also a free downloadable book "Trash to Treasure: 28 Recycled Crafts" that have many fun ideas for the summer:
Trash to Treasure: 28 Recycled Crafts eBook
Table of Contents
Crafting with Tin Cans …
All you need to get this look for your home is a permanent crafting pen. This 5 minute DIY comes from oh-so-stylish Creature Comforts.…
I got word today that Liat Gat of KnitFreedom has released a new video all about different knitting cast ons. The KnitFreedom Video Guide to Cast Ons includes video instruction on 39 different cast ons, from backwards loop to twined, Old Norwegian to alternating long tail.
I will admit there are a few here that I don't know, so I'm …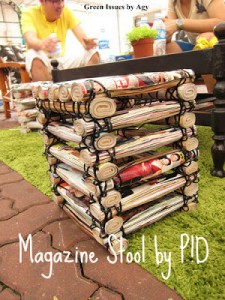 This is so cool! Pop on over to the blog Green Issues by Agy for an awesome tutorial on how to make a recycled magazine stool. Not only do you get a cool piece of furniture you have a great way to store your magazine.…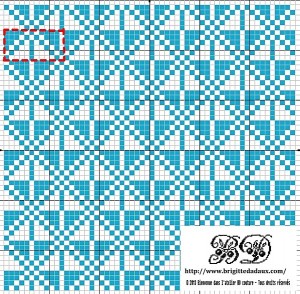 Repeating motifs are fun to stitch and useful for filling in backgrounds or just creating fun ornaments or even nice pillows. You can use up odds and ends of flosses or go for a single color filling in the entire design. It's also a great way to get used to stitching with a new-to-you floss.Get the free chart.…
This is one I adore, folks, and I'm cherishing its addition to my cookbook collection. Pieography: Where Pie Meets Biography-42 Fabulous Recipes Inspired by 39 Extraordinary Women, by Jo Packham published by Quarry Books. I'm very intrigued by how our lives are intertwined with the foods we create and by the deeper significance of foods beyond mere nourishment. From …
Alyce from And Sew We Craft shows how to make her 20 Minute Library Bag.  The bag is easily sewn, requiring only straight seams (and not too many of them, either).  And it uses fabric efficiently, too.  You will only need 14″ x WOF (width of fabric) to make one.  Go to her blog for the how-to.
[photo from …
Melissa from Blank Slate Patterns and Melly Sews shows two ways to install a zipper – a standard on seam zipper, and a zipper with a lapped front cover the zipper teeth.  Go to her blog post for both tutorials.
[photo from Melly Sews]…
Meream from Bored & Crafty shows how she made this sewing pattern organizer – out of a cat litter container.   After she cut the container to shape, she covered it in pattern pages from Japanese sewing magazines.  Go to her tutorial.
[photo from Bored & Crafty]…
Mie from Sewing Like Mad guest blogs at Project Run and Play showing how she made the bodice on her My Inner Grandma dress.  The bodice is lightly gathered on to a double layered yoke.  She also shows how she made the front facings and attached the ribbed knit neck band.  Go to her tute.
[photo fro Sewing Like …
Ashley from Mommy By Day, Crafter By Night shows how to make a hooded bath towel for a doll.  If you cut carefully, you can two of them from 1/2 yard of terry cloth fabric (plus bias tape to finish the edges).  Go to her tutorial.
[photo from Mommy By Day, Crafter By Night]…
I'm seeing more and more intricate and detailed dies for paper crafting and sometimes it can be a little hard to get a perfect cut with them. Christine at Card Maker Connections has several useful tips like using wax paper under the die for getting a good cut each time.
-Heather…
Kara always comes up with good ideas – and tutorials for them.  In this case, as a follow up to my recent article showing a tutorial for flower-making (from another crochet artist), we can make some more pretty flowers to use as facial exfoliation.  These simple but attractive flowers will be a hit with everyone from teens to grannies.  …
Mother's Day is this Sunday May 12th in a variety of countries. Here are some free printables to help you show your Mom how much you care!
Mother's Day Card from Citruz Design
Mother's Day Card and Gift Tag Set from Elegance & Enchantment
Mother's Day Card & Gift Tag in three colors from Minted Strawberry

I'm sure the name Craftsman rings a bell–if not, you probably haven't been in the power tools section of a store lately. But you may not have heard about what Craftsman has been doing lately, a wonderful thing the call the "Make a Difference" Tour. They've set out to inspire Americans to break out their tools and help their communities …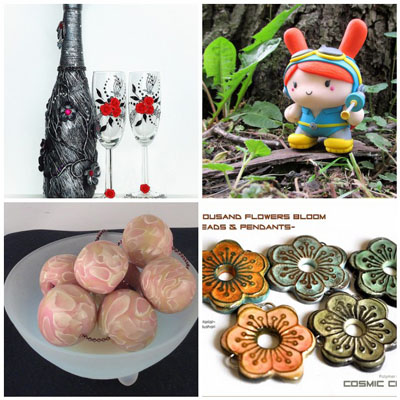 Usually I sneak my mosaic in earlier in the week but I've had a heckuva cold and got all mixed up this week – so here's a little of what's showing up in polymer clay:
1. Daisy the Defender Custom Dunny, 2. 3, 3. IMG_1015, 4. Cosmic Ceramic – Faux Ceramic in Polymer Clay…
Maybe it's because my bras are more functional than pretty, but I cant stand it when my bra strap peeks out at the shoulders!  Dixie from Dixie DIY shows how to add a bra stap carrier to keep that from happening. You can add it to any garment, store bought or one you make yourself.  Go there for the tute.…
Sometimes little hands need a more simple way of painting. This Q-Tip painting technique is great for little ones to make masterpieces! You can find the tutorial over at Mom Mart. …
We love to have birds around our house, but the  squirrels are always coming onto our little bird feeders. Perhaps these birdhouses are just the ticket to keep the birds around! You can find this adorable button birdhouse tutorial over at Sew Country Chick.…
Head over to I Love To Create to find out how to make a Mondrian inspired design on fabric using fabric paint and masking tape.  They used it to upholster a straight back chair, but you could use it for any number of home decor projects.  Or, use the fabric to make a mod jumper for a little girl.  Get …
Here is a great craft your kids can help out with and give to mom for Mother's Day! Head over to Lynn + Lou for the tutorial.…
« newer posts
—
older posts »