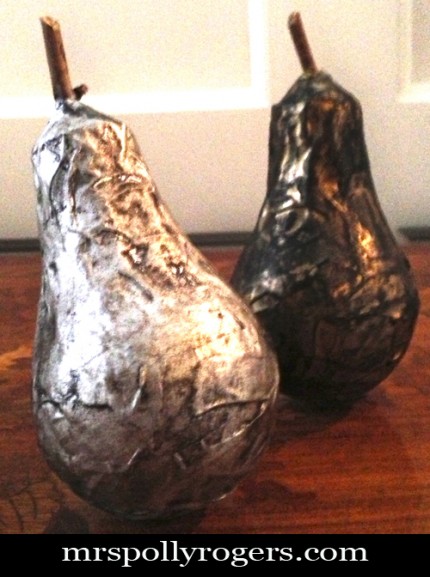 I have made a lot of things from light bulbs in the past, but I have to admit I never thought to paper mache them and use them as decorative pears! What a great idea, and as Polly says, you can use any color to match your decor. A fun project you can find here — Lightbulb Pears – Mrs. …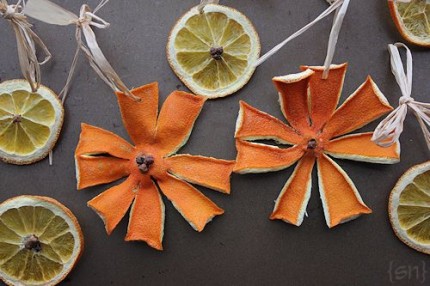 I've seen orange slice ornaments over the years many times. But this is the first time I've seen a star made from the orange peel, how smart! A pretty decoration for Christmas or really, anytime. See the post –>> Sunny Citrus Ornaments.…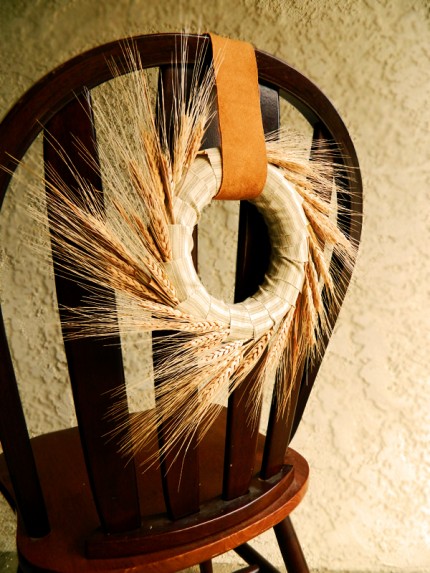 First of all, I love the idea of hanging this on the back of a chair, whether or not that was just for the photo. What a lovely decoration! While fall is drawing to a close, this is a still a fun project that can be made and hung throughout your home, not just on the door –>> DIY Mini …
In celebration of Thanksgiving (happy day to those who celebrate it!), Jimmy Beans Wool has released a special, limited edition line of yarns produced by some of the best dyers out there and inspired by the meal a lot of us are going to eat today.
Operation Turkey Trot is the name for the holiday collection, which features yarns in …
That's What Che Said made this lovely candle centerpiece with twine, craft leaves and burlap. A simple, last minute-appropriate addition to any Thanksgiving table. Get the tutorial.…
This dry erase board project that can be made to fit any holiday season or home decor. Using a picture frame with glass, some stamping and vinyl designs make one for yourself or as gifts. Find directions on the Ginger Snap Crafts blog.
-Heather…
Can we please put this one in the category of Cutest Thanksgiving Appetizer ever? Maybe even Cutest Appetizer ever? Little pumpkin pie slices made out of cheese and crackers are genius. Find the how-tos to make them HERE at Project Denneler.…
There's still one whole day left to make this cake! And be sure to check out the clever and easy way to make the turkey pattern on the side of this cake. Make a bright and cute turkey cake with how-tos HERE at Cake Whiz.…
Yes, be that host who thinks of everything! Even labels for your guests' leftovers. Find a free printable for Thanksgiving leftovers, and if you're a little late in the game (there's still time!), you'll also find a free printable for a Thanksgiving planner, HERE at Laura Bray Designs.
…
Crafts by Amanda shares a cute tutorial for a Thanksgiving luminary that reads 'give thanks'!…
Looking for a last minute way to jazz up your Thanksgiving table? Why not make some pretty place cards for your guests. Find directions for these cute acorn ones over on the Two Peas in a Bucket blog.
-Heather…
Finally, kids can do the work themselves. I'm loving this simple snack idea for kids to assemble their own turkeys from crackers, cheese and veggies. Find it HERE at Creative Food.…
This hat is so adorable, its hard to believe its made out of a paper plate!! (Also doesn't hurt that the little one wearing the hat is over the moon cute:) You can find the full instructions over at Pink Stripey Socks. …
Looking for some fun Thanksgiving crafts to do with your kids? Here are some great Centerpiece ideas that your kids will love to make and some of them even 'gobble' up!  How about the Lollypop turkey? Adorable!! Head over to Crafts n Coffee for to see all of the Turkeys!
…
This is such a pretty leaf and easy to make. Pop on over to the Joyful Stamper blog for the full tutorial on how to make a recycled paper bag fall leaf.…
Rachel Hollis from My Chic Life shares this tutorial for making gratitude journals as gifts for your Thanksgiving guests. She made them using blank Moleskine journals. Click here to see all the details.…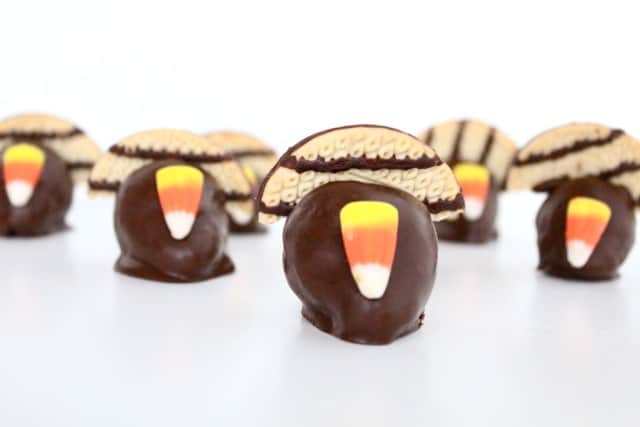 Mmm… chocolate covered strawberries. You really can dress them up for ANY holiday, even Thanksgiving. Make chocolate covered strawberry turkeys HERE at Sugar and Cloth.…
Allison Waken shares this tutorial on Modern Parents, Messy Kids, showing how to make this gratitude turkey. Your kids can write things they are thankful for on the back of the tail feathers. Click here to see more.…
If you're still looking for decor ideas for Thanksgiving, here are four free printables that might help.
1. Watercolor Thanksgiving place cards by Sara from Mr.Handsomeface
2. Simple Thanksgiving place card banners from Let's Go Sunning
3.Thanksgiving  thank you card and labels from A Pair of Pears and The Sweetest Occasion.
4. Thanksgiving Cupcake Toppers and wrappers from …
Last week was Thanksgiving Week on write.click.scrapbook and the team shared a host of ideas, including layout, mini album and decor ideas, as well as free printables for gratitude albums and invitations. Click here to see all the posts.…
Phew, I'm glad we know from the title that there's liquor in this spiked apple cider dip, or I'd have stopped reading. Ah, me and my liquor (that I can't even drink yet until this baby is born.) This one looks amazing. Find the recipe HERE at 1 Fine Cookie.…
See these gorgeously decorated turkey cookies? You can make them, too. Honest. Because every single step is shown in this turkey cookie how-to HERE at Lizy B.…
Not only do you get the how-tos to make these Pilgrim cookies from store-bought goodies atop a little cup, but you also get the how-tos to make these Pilgrim cookies from store-bought goodies atop a little cup adorably told through story. Click to see what I mean. Find the how-tos HERE at Hoopla Palooza.…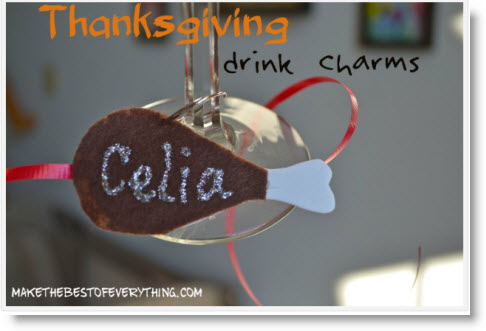 Kristen hosts "Make the best of everything" out of Ottumwa, Iowa and as the name suggests, she try to make the best of everything; which is a pretty good attitude to have.  She is having Thanksgiving this year for 20 people and wanted to make something special and came up with a fun drink charm that is too cute.  It looks …
Dover Publishing has an entire page of free Thanksgiving themed clip art to download for free, click here to get it.
-Heather…
keep looking »