This Mermaid Birthday Party is another one of my own setups. My daughter wanted an Ariel party but I didn't want an over the top Disney party so we met here in the middle.
Everything was DIY. From the mermaid skirts and seashell hairpiece  to the treasure chest (old shipping trunk) and even the jelly fish hanging from the ceiling were made …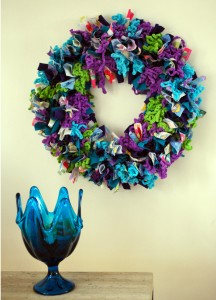 Last week I posted my first recycled rubber glove project. Today I think have my first recycled scrubs project. See how to make a recycled scrubs wreath in honor of Nurse's Week over at the blog Livividli.…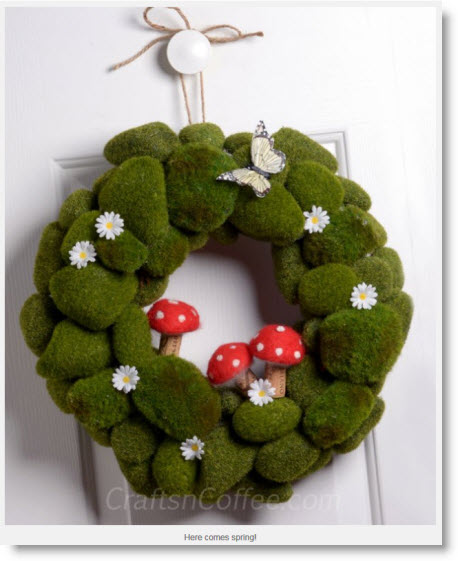 Sharon from "Craft 'n Coffee" has this darling wreath tutorial for spring and you will want to make it. First, build a wreath using Moss Rocks from the dollar store (I have bought bags at our Dollar Tree) and a wreath ring of STYROFOAM Brand Foam. Then, follow the tutorial to make felted mushrooms using wool roving and foam shapes. …
Add a pop of color to your wedding decor with a pretty fabric wreath! Take it home when the ceremony is over for a lovely memento of the day. Get the tutorial at Intimate Weddings.…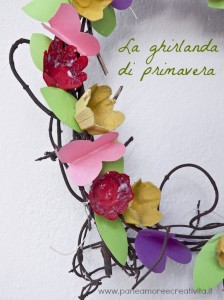 After you have dyed your eggs for Easter why not use this tutorial on how to make flowers perfect for a wreath over at the blog Pane, Amore e Creativita.…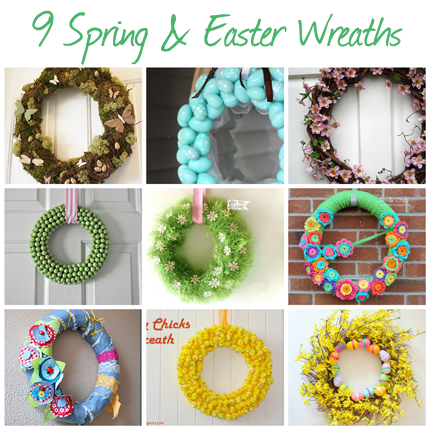 It amazes me that there can be such versatility in one craft project. The wreath. The wreath can be changed in so many different ways it almost seems infinite. I've written about several different wreath designs, and here are 9 more for you to peruse. Some are Easter specific, while others are springy. At the end of this post, there …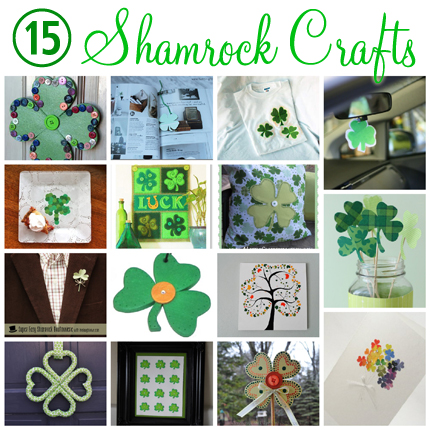 Shamrock crafts are very popular now, and dressing up your home with a shamrock here and there is a great way to show your holiday spirit during St. Patrick's Day. Many shamrock crafts are geared at kids, but I've put together a collection that adults will enjoy making. Happy St. Patrick's Day!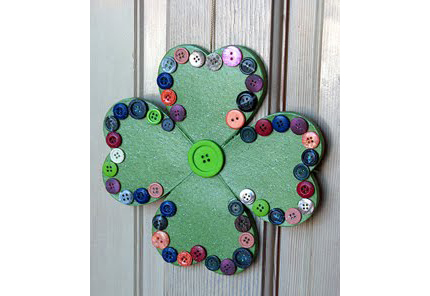 1. Welcome Shamrock – Crafts by Amanda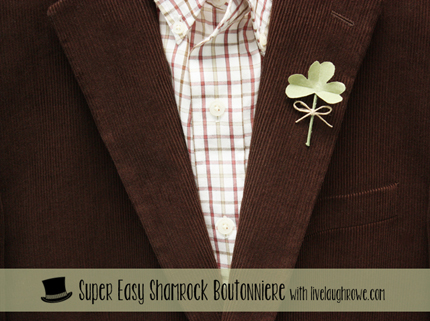 2. …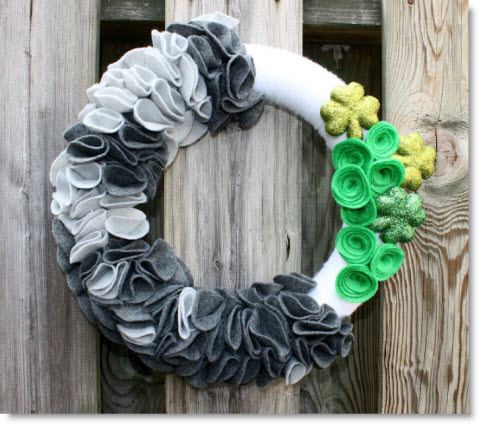 This is so pretty with the two tone effect Wanessa used.  The natural shades of grays, styrofoam circle that is somewhat exposed and then the charming shades of green make this so delightful.  Find this lovely ST. PATRICK'S WREATH tutorial over on "WCC Designs" hosted by Wanessa Carolina who lives in Brazil with her hubby and children.  She has a …
Don't steer away from the yarn aisle just because you don't knit or crochet! There are plenty of other ways to use yarn in projects. There are some great tips for ways to use yarn here –>> Easy Yarn Crafts as well as instructions for making pom poms with a fork and how to make balloon yarn balls! There are several …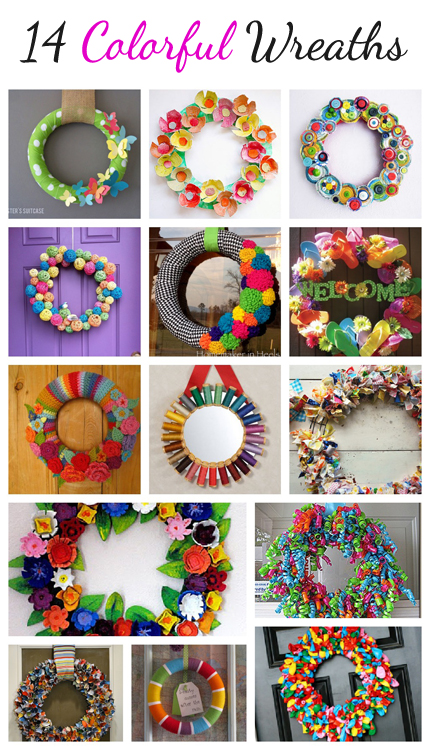 As a crafter, I am all about color. Multiple colors entwined together are bright, vibrant and happy. A wreath made of several colors is cheerful and welcoming and makes people smile. I found several colorful wreath tutorials to help you make one as well.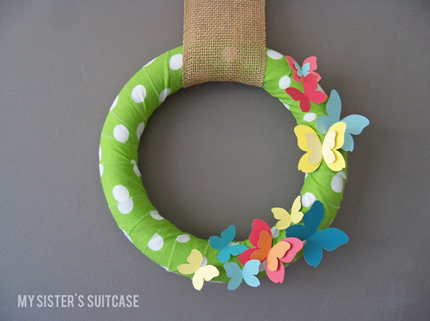 1. Butterfly Paint Chip Wreath – My Sister's Suitcase
The colorful butterflies on this wreath really …
I LOVE the idea of adding a stamped image on a wreath!! You could use this idea for so many different holidays and occasions. I spotted this lovely Easter Wreath on Martine's blog.
-Heather…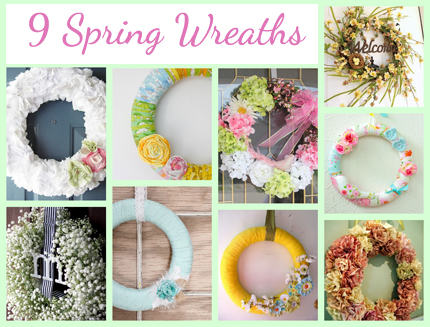 I am dying for spring, and a wreath is a great way to bring that feeling to your home even while the snow is still flying. If you're like me and you live anywhere east of the Rocky Mountains and north of Tennessee, chances are you are still wearing winter jackets and have snow on the ground. Spring is coming …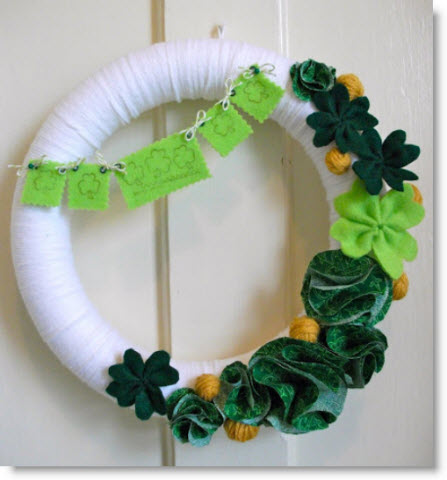 Shauna of "His frugal Servant" has the prettiest and most colorful St. Patrick's Day wreath tutorial for us to follow.  Shauna and her husband weren't frugal in college, and they started their married life together with some lingering debts and college loans. So they made a plan to repay debt, living frugally while still having fun, and awaiting the day …
Kat of "Just Crafty Enough" has a wonderful tutorial on felted hearts and some things you can make with her cookie cutter felted hearts and her needle felted heart.  She was wandering around Target the other day and came across these felted heart wreaths and garland in their holiday section "pictured".  She really like the softer look of the wool …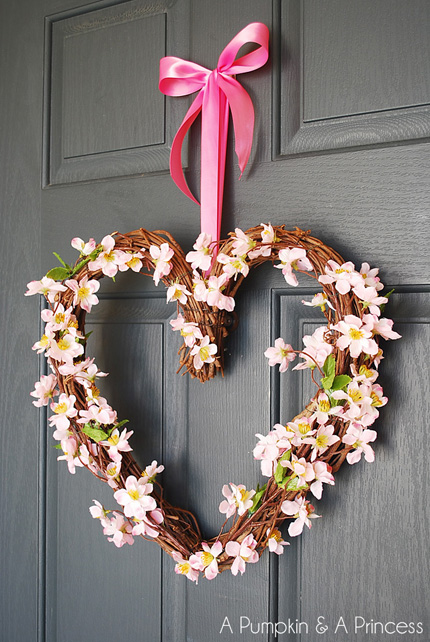 I think what I love most about this wreath is its simplistic beauty. First of all, I adore cherry blossoms and apple blossoms. I think they are in the top 3 most beautiful things that spring provides us. So to see these pretty blossoms set on a rustic grapevine wreath is quite lovely. Get the easy tutorial here – Heart …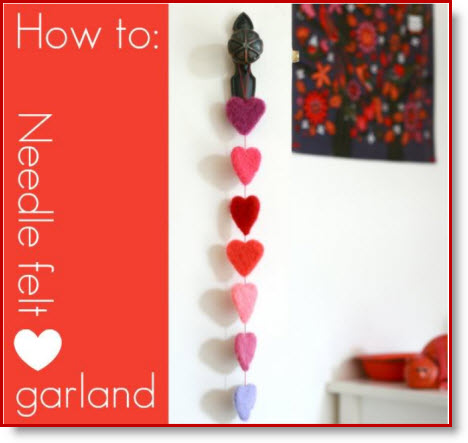 This is a very easy needle felting heart using cookie cutters can be used for many more applications than garland; like brooches, wreaths or table décor.  Cintia has been blogging on "My Poppet" since 2007.  She grew up wearing homemade clothing, helping her mum trace patterns from Burda magazines and just having a crafty good time. She discovered craft blogs. …
1. Love Note Printables from Paper Coterie
2. Printable Valentines from Small Types
3. Cool Kids' Printable Valentines from A Night Owl
4 -5. Mason jar Valentine Countdown and Valentine Wreathe from Vintage Umbrella
6. Washi Tape Frame from Create, Craft, Love
7. Mini Pocket Paper Valentine from A Pumpkin & a Princess
8. DIY Personalized Valentine Favors from Modern …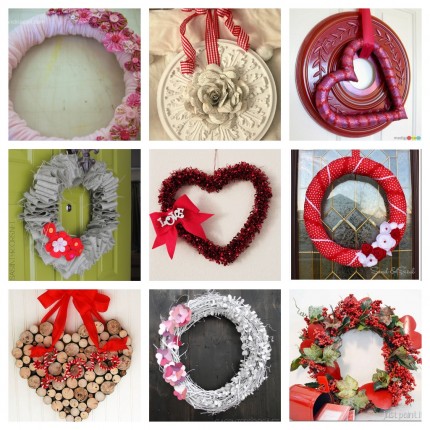 Looking for some fun Valentine wreath ideas? There are what seem like hundreds out there on the internet, and so many different design ideas to choose from. I featured quite a few Valentine wreaths last year and the year before and you can see them, along with a ton of other Valentine crafts here: More Home & Garden Valentine Crafts…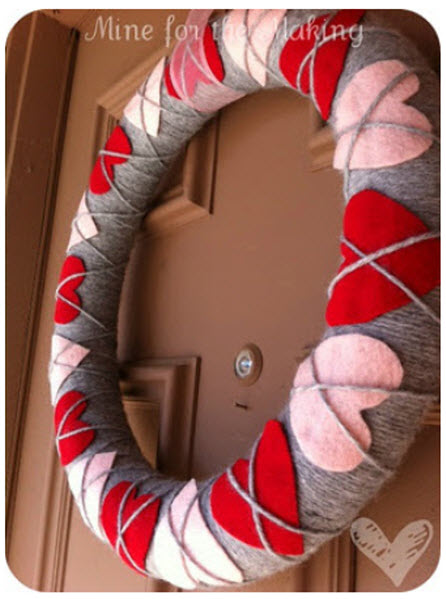 There is a charming blog called "Mine for the Making" hosted by Kara a young stay at home wife and mother who love sharing her crafts, projects, home renovations, recipes, tutorials, and even little sneak peeks at her family.  She has the most creative Heart Argyle Valentine's Wreath tutorial for your door or anywhere in your home.  Kara: "(pinspired)" Valentine's …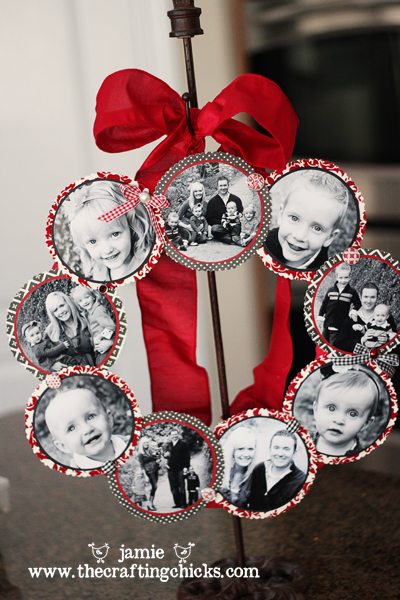 What a "love-ly" way to display your family photos.. on a photo themed, love filled Valentine wreath! Good choice using black and white photos too. I think the impact is much greater than if color photos had been used. If you prefer the vintage look, maybe try sepia photos with a more rosey accent instead of red? Regardless, it's wonderful …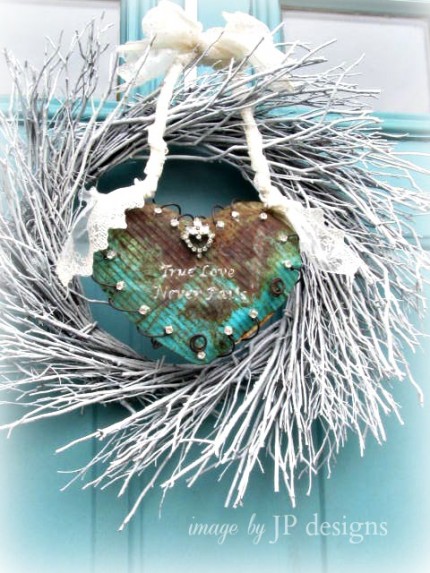 A little rusty heart combined with pretty white twigs makes for a beautifully rustic addition to your door this Valentine's Day. I love how this turned out! You will really want to check out the full post and see how everything cam together. Go here for the details — Sweet Inspirations by JP designs: A Shabby Glam Rustic Heart on …
Sher has created yet another crocheted wreath in her series. This one hides a secret. Before you make this one for your sweetie for Valentine's Day, you can make the one on the other side to celebrate the snows of Winter. How clever is that?

Sher does not yet have the patterns for these two new wreaths written up, but …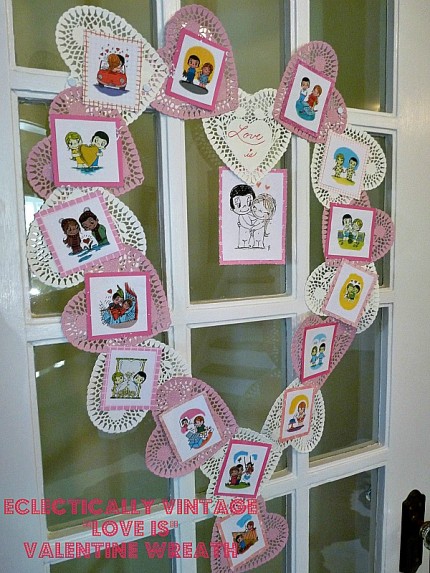 Do you remember "Love Is"? Those cute little cartoon people from back in the 70′s? I do, I was school aged back then and those little people were everywhere. They are considered vintage now (eek) and you just don't see them around like you used to. This fun wreath is made up of a bunch of Love Is cards and …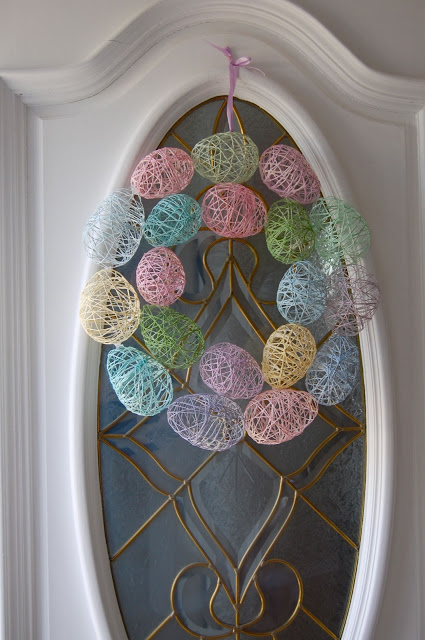 You've seen string eggs before I'm sure? Well this creative crafter took them one step further and formed all those string eggs into a pretty wreath to display on her door for Easter! I love the way this looks. If you do too and want to make one, head over to Wine and Glue for the scoop — Wine and …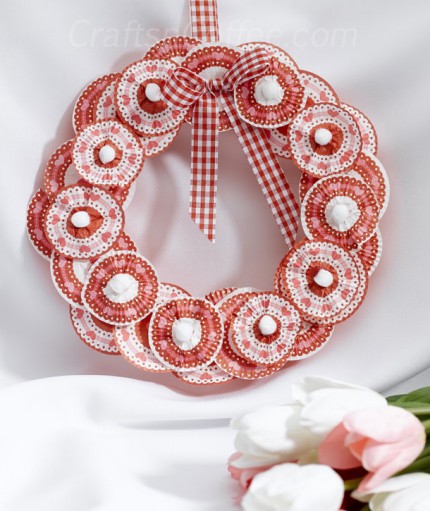 This pretty wreath is so country isn't it? it's made with cupcake liners and pom poms, and Crafts n Coffee will walk you through how to make your own. So head over to their blog for the instructions! — A sweet & easy Valentine's Day Wreath blooming with paper "flowers" | Crafts 'n Coffee.…
keep looking »