Holy Batman! This is another look at the ever so popular party theme BATMAN. My own child had a superhero party (will eventually blog about it). This modern version has some sleek printable designs and a cool Batman logo too.  Modern Batman.
If you are planning a Batman party then you might want to check out these other Batman …
The most supportive bride in the world award has to go to this lady from New Zealand.
The cake is half pretty and half – um – Batman.
I really hope that this wasn't a surprise  - you know – one of the things where the groom plans everything. If it was, it may be the shortest wedding in the …
Though adding "really awesome" to any of Callye's cookie creations is redundant. See what simple cookie cutter is used to make these really awesome decorated cookies HERE at The Sweet Adventures of Sugarbelle.…
Pow, Fwop, Zam!! Holy awesome Bat-Man cake, what the the bright and simple design. Find the how-tos to make your own, including links to the free templates to cut out the designs, HERE at Domestic Fits.…
Cheryl from Sew Can Do guest blogs in the Handmade Costumes Series at The Train To Crazy with a tutorial showing how to make a DIY Batman mask and cuffs. It would be awesome for Halloween, as well as for year-round superhero dress up.  You can also vary the colors and the shape of the mask to make it work for other superheroes, too.  …
A very thoughtful mom who blogs over at Crafty Stacy made this rug and tea cup as a gift for her eldest daughter leaving for college. She combined some strip piecing and a simple nine patch to complete the top. Lovely.
But there's more. Flip it over and it's Na, na, na, na, na, na, na, na, na, na, na, …
Another one from Craftfoxes.com, this post featuring Batman crafts is the perfect thing to get you in the mood to see the new film. I'm not sure if I'm ready to go to these lengths to show my bat-appreciation, but I certainly have fun looking at things like the origami Dark Knight by Marigami Origami. Have any other …
Not quite Halloweenish, but still close and very fun, The Pink Toque has a tutorial on a melt and pour Batman soap. Also, as a bonus, there is a link to a very cute matching knitted Batman washcloth!
Find the details on The Pink Toque.…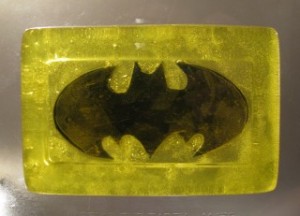 Not quite Halloweenish, but still close and very fun, The Pink Toque has a tutorial on a melt and pour Batman soap. Also, as a bonus, there is a link to a very cute matching knitted Batman washcloth!
Find the details…
Never underestimate the power of a cape to transform a child into a superhero or princess or evil villain.  Rachael from Rachael Rabbit shares a tutorial showing how you can make a hooded cape for kids' dress-up play.  She shows how you can make it in four variations. With small adaptations, it can be a …
This Super Hero party round up is actually from my own sons party. I created a theme around the backdrop wall paper I picked up on sale for $14.  It created an amazing cityscape that the kids loved having their photos taken against.
I purchased helium balloons from ebay for under $2 each and used them as a backdrop on …
In case you have a Super Hero fan at your house and want to crochet something special for Christmas, here are two 'dolls' for you. In case you don't have time to get an entire figure completed before the Big Day, you might want to quickly work up a pair of Super Hero Mitts – that look like what Spidey …
I was so excited when 3M offered me the opportunity to come up with a simple craft for Halloween using their duct tape! I automatically was drawn to their glow-in-the-dark duct tape options and began thinking of ideas.
Being a mom of 4, the night of Halloween can make a mom nervous with kids running all over the place in …
This blog topic was inspired by my father who messaged me at 7 am to tell me – did I know that Onesies are HUGE right now. If my 69-year-old father thinks they are worth blogging about then gosh darn it I will blog.
I have been trying hard not to get involved with the whole Onesie craze. I do …
If you're a fan of the movie A Christmas Story, then you know you want this embroidered hoop by The Cotton Floozy for your very own. And you could have it! The Floozy is giving it away! Hurry to her blog post to find out how to enter. The contest ends December 13.…
Holy Blondies, it's Bat Man! (That was necessary, don't you think?) Make blondies, then turn them into Bat Man HERE at Kitchen Fun with My 3 Sons.…
Once again I've stumbled across an awesome stamp shop on Etsy, this one is called TTYR (out of Sweden). They have some wonderful hand carved geeky stamps like Legos, video game characters,  Star Wars, Batman and they even offer custom work. Click here to check out this cool shop.
-Heather…
Calling Leonard and Sheldon. Attention Batman and Catwoman. Yoo hoo…. Captain Kirk….. this book is for all of you.
30 out of this galazy designs based on science fiction, animaguri, comic books, and fantasy (and Koothrapoli's sweater vests) from Joan of Dark, a.k.a Toni Carr. Find instructions for practical projects such as an e-reader cover or a laptop bag crafted …
This sweet book is not so little, but it's full of designs for the little ones.
I'm becoming quite the fan of Linda Permann.  While a lot of the designs in this pretty book cover familiar ground, there is a fresh twist to most that make the book a pleasure to own.
Standard in all books for babies and toddlers …
Just in time for Halloween! This storm trooper helmet looks great and is made out of two plastic milk jugs!
I just saw someone tweet this tutorial from the Filth Wizardry blog. It lokos like they have quite a few other milk jub tutorials, batman masks and pumpkin candy buckets
I'm so glad I found this blog it has some …
keep looking »