I have to admit, I'm totally out of the Star Wars world now. I'm about old school Star Wars. The original, unenhanced trilogy. Playing Princess Leia in the backyard, my brother was Luke, or maybe Han. We probably made my sister be Darth or Jabba the Hutt. But apparently the whole massive Star Wars complex is alive and thriving. Here …
Thanks to everyone who shared their moments of organizational embarrassment; I feel a lot better.
Our winners this time around are numbers 1 and 4: Constanza, who shared a story about a scheduling mishap that happened when she had surgery; and Maryanne, who can only find things after she buys a replacement.
She's not alone, a lot of people said …
Ari from Max California guest blogs over Shaffer Sisters with a tutorial showing how to make her 12 Parsecs Dress.  It's a t-shirt mini-dress with a retro sweetheart neckline.  Love!!  Go to her tutorial.
[photo from Max California on Shaffer Sisters]…
Alexandra from Kalinka Handmade shows how to make tablecloth weights.  They clip the bottom of a tablecloth to keep it  from blowing away when you're dining outside.  The ones she made are shaped like fish, but you could sew them in any shape you like.  Go to her blog for the how-to.  (The post is in Russian, but you …
Bridgit  from Wag Doll made a new summer tote bag for herself.  The striped fabric came from a table runner that she fussy cut so that the printed words would appear on the front of her bag.  She shares a tutorial showing how she made the bag.  It's a roomy tote, with finished dimensions of approximately 18″ x 14″.  (I'm basing these numbers on …
Amy from Positively Splendid shows how to make a pretty scalloped sunglass case.  They don't take much fabric to make, so you can use up some of your scraps of favorite fabrics.  Go to her blog for a pattern and tutorial.
[photo from Positively Splendid]…
The difference between a plain pencil skirt and a tuxedo skirt is just a couple of strips of contrast down the side.  Kristina J. shows how you can update a plain skirt to give it the tuxedo stripes, in the form of wide grosgrain ribbon.  Go to her tute.
[photo from Kristina J.]…
Here's a super cool idea using stamps that I've never seen before!  Wendy Price used her stamped images as a design base for wood burning, how fun is that? She has details on how she made this photo frame over on the There She Goes stamps blog. Wouldn't one of these make a perfect Father's Day gift?
-Heather…
Sometimes the most humble crochet project can really make a difference in the quality of one's life.  That's crochet genius!  In this case, Sheila has invented a potholder we weren't smart enough to know we needed, but will not find it impossible to live without!  Check it out.  You'll be as impressed as I was with Sheila's crochet genius …
The Sharpie® marker was introduced in 1964, the first permanent pen of its kind, coveted for its ability to write on almost any surface. Fifty years later, Sharpie is still coveted for its ability to write on almost any surface. I've seen a resurgence in the past few years of crafters re-claiming the tool. Sharpie designs are showing up in …
Lia Griffith designed a matching set of summer themed gift tags and wrapping paper, that would work well for those occasions coming up: Graduations, Bridal Showers, Father's Day and of course birthdays! Click here to download the tags and coordinating papers.…
This sounds like fun. Roslyn of Sew Delicious is hosting a sew along starting today, May 20th and ending May 24th. She explains,
The project is a quilted mat – perfect for anyone wanting to try quilting but are intimidated by the size of a traditional quilt. This project is also a great scrap buster and fun for quilters of

…
Here's a great free printable that you can use for family movie night, party invitations or even page embellishments: movie tickets from Dabbles & Babbles. Click here to go to the download.…
A few years back I bought a huge box of random cookie cutters. This is the perfect project to pull them all out and see what patterns would make great bird feeders! You can find the tutorial over at We Made That! …
This is an inexpensive and fun way to make a matching and pattern game for your little ones! I love the fact that you can choose from so many different stickers to accommodate the interests of your child. Head over to Thrive 360 Living for the tutorial.…
Cake Plate Clings are a great way to "Theme" a party using supplies you already have.
Cake Plate Clings, a new patent-pending product from WH Hostess, are a novel series of decorative linings designed for cake stands, pedestals and serving dishes. A fresh update to the traditional disposable paper doilies and liners, Cake Plate Clings are used for decoration, …
Rachael Rabbit shows on her blog this Union Jack blanket she's making from recycled sweaters cut into 2.5 inch squares. To keep the squares from becoming wonky she said she backed them in cotton fabric scraps. Brilliant! Go HERE to see more photos of her WIP plus download her Union Jack pattern.
Image credit: Rachael Rabbit…
When a doll stroller is looking past its prime, it's usually due to the fabric seat fading or ripping.  (At my house, it was the result of my daughter trying to sit in her doll's stroller…)  Living Well Spending Less shows how you can replace the seat and make the stroller look brand new again.  Go to her tutorial.…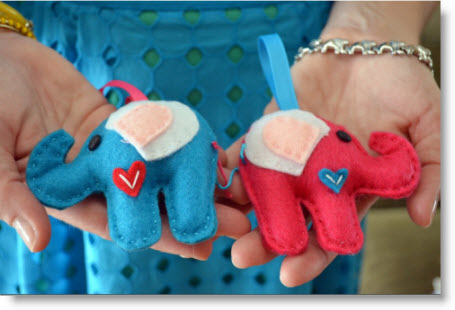 This is such a darling gift for a baby shower or a new baby (my daughter is due May 29th a new granddaughter)

  Laurel of "Laurel Lane" has a complete tutorial for us.  Laurel is a wife, a sister and mother of two beautiful children.  She loves working in the fast-paced digital marketing world during the day.  Thanks Laurel …
Anna from Plan B shows how to make a fringed tote bag.  The outside is covered in fringed trim.  It's fully lined, with a small patch pocket on the inside to hold a phone or keys.  Go to her blog for the DIY.
[photo from Plan B]…
Debbie from Got It At Goodwill shows how to make a purse out of a pair of thrifted pillowcases and a set of purse handles. She says it's the "easiest purse ever."  You can make it with just a few straight seams, plus tying some knots.  Go to her tute to see how to put it together.
[photo from …
Ohhh, how I am wanting these chair cushions for my dining room!!  Larissa from mmmcrafts made them and so they're sitting in her dining room right now instead of mine.  BUT, she shares a tutorial on her blog so I can make some of my own.  She makes them bright and happy by giving each one a different fabric print on the …
Anshu from Blooms and Bugs calls this dress her Knit Loops Dress.  It's an A-line play dress for her little girl, and she shares a tutorial showing how to make it.  It gets its name from the loops of knit fabric at the back waist.  She used them instead of ties to snug it at the waist.  On the front, the neckband …
The Call for Papers is now open for the 2014 symposium of the Textile Society of America. The society's site says,
The theme of the symposium: New Directions: examining the past, creating the future will take a special focus on change and innovation in textiles in the past, and will look at the state of the field of textiles, textile

…
Whether you're a lacemaker, or you'd like to learn, or you're just a fan: heads up! LaceNews announces a world-class event to be held in Salt Lake City, Utah, USA, in August. The 60th International Organization of Lace, Inc. (IOLI) Convention, Lace in Translation, promises classes from 3 to 30 hours led by experts from around the world. Registration is …
older posts »