A few years back I bought a huge box of random cookie cutters. This is the perfect project to pull them all out and see what patterns would make great bird feeders! You can find the tutorial over at We Made That! …
This is an inexpensive and fun way to make a matching and pattern game for your little ones! I love the fact that you can choose from so many different stickers to accommodate the interests of your child. Head over to Thrive 360 Living for the tutorial.…
Cake Plate Clings are a great way to "Theme" a party using supplies you already have.
Cake Plate Clings, a new patent-pending product from WH Hostess, are a novel series of decorative linings designed for cake stands, pedestals and serving dishes. A fresh update to the traditional disposable paper doilies and liners, Cake Plate Clings are used for decoration, …
Rachael Rabbit shows on her blog this Union Jack blanket she's making from recycled sweaters cut into 2.5 inch squares. To keep the squares from becoming wonky she said she backed them in cotton fabric scraps. Brilliant! Go HERE to see more photos of her WIP plus download her Union Jack pattern.
Image credit: Rachael Rabbit…
When a doll stroller is looking past its prime, it's usually due to the fabric seat fading or ripping.  (At my house, it was the result of my daughter trying to sit in her doll's stroller…)  Living Well Spending Less shows how you can replace the seat and make the stroller look brand new again.  Go to her tutorial.…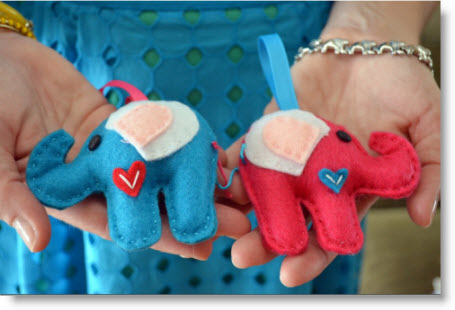 This is such a darling gift for a baby shower or a new baby (my daughter is due May 29th a new granddaughter)

  Laurel of "Laurel Lane" has a complete tutorial for us.  Laurel is a wife, a sister and mother of two beautiful children.  She loves working in the fast-paced digital marketing world during the day.  Thanks Laurel …
Anna from Plan B shows how to make a fringed tote bag.  The outside is covered in fringed trim.  It's fully lined, with a small patch pocket on the inside to hold a phone or keys.  Go to her blog for the DIY.
[photo from Plan B]…
Debbie from Got It At Goodwill shows how to make a purse out of a pair of thrifted pillowcases and a set of purse handles. She says it's the "easiest purse ever."  You can make it with just a few straight seams, plus tying some knots.  Go to her tute to see how to put it together.
[photo from …
Ohhh, how I am wanting these chair cushions for my dining room!!  Larissa from mmmcrafts made them and so they're sitting in her dining room right now instead of mine.  BUT, she shares a tutorial on her blog so I can make some of my own.  She makes them bright and happy by giving each one a different fabric print on the …
Anshu from Blooms and Bugs calls this dress her Knit Loops Dress.  It's an A-line play dress for her little girl, and she shares a tutorial showing how to make it.  It gets its name from the loops of knit fabric at the back waist.  She used them instead of ties to snug it at the waist.  On the front, the neckband …
The Call for Papers is now open for the 2014 symposium of the Textile Society of America. The society's site says,
The theme of the symposium: New Directions: examining the past, creating the future will take a special focus on change and innovation in textiles in the past, and will look at the state of the field of textiles, textile

…
Whether you're a lacemaker, or you'd like to learn, or you're just a fan: heads up! LaceNews announces a world-class event to be held in Salt Lake City, Utah, USA, in August. The 60th International Organization of Lace, Inc. (IOLI) Convention, Lace in Translation, promises classes from 3 to 30 hours led by experts from around the world. Registration is …
Sedef of Down Grapevine Lane created this design for Mother's Day, but I think it works (with perhaps some changes to the colors) for every occasion from birthday, to wedding, to anniversary, to Valentine's Day, to Christmas. If you're new to embroidery, don't be intimidated by the stitches — they're all newbie-friendly. Go to Sedef's post for the free pattern …
Orna Willis has updated her Adorn Etsy shop with kits for several new needlepoint cuffs and lockets. The richness of the colors, threads, and stitches make Orna's designs irresistible to make and to wear. Go to her online shop.…
Turn a worn-out pair of jeans into stylish shorts with a bit of lace on the pockets and a delicate machine-embroidery design at the hems. Get all the details from the free tutorial at Urban Threads.…
My dad was a firefighter for over 20 years so this fireman's hat die cut shape makes me smile. I'm very proud of my dad for all those years he served as a firefighter (he's happily retired playing lots of golf and boating now). If you have a fireman in your life or a little guy who wants to be …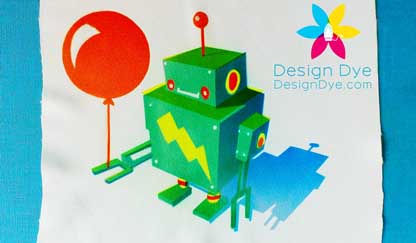 The giveaway is almost over! You've got only 24 hours left to enter the Design Dye Giveaway! (Click here to read and enter!) If you've already entered, then check out some of the  new tutorials over on the blog. There's one all about color mixing in complex designs–the way they created this adorable balloon loving robot. And there's …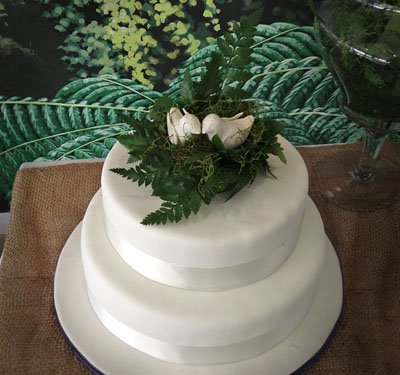 The most common wedding craft made from polymer clay seems to be the wedding cake toppers. While I'm not talented enough to do realistic sculptures of people… I'm not the only one who thinks a more stylized shape would work nicely. In this post here's no specific instructions on how to make the bird but some good advice on adding …
Receive $10 off (exclusive to Craft Gossip readers) 
Smoke alarms may be an essential home safety device but they are certainly not known for their visual design.  Here at last is a smoke alarm that breaks with convention.  Now available in Australia for the first time, the Chick-a-Dee smoke alarm is an innovative, bird-shaped smoke detector that combines form and …
My Owl Barn has created a free printable calendar for 2013 that allows you to hand select a beautiful owl image for each month.…
Kate from See Kate Sew shows how to make this gingham sunglass case with a big bow at the opening.  It's part of her Gingham Style series.  The case is padded with two layers of interfacing to help protect the lenses from scratches.  Go to her tute.
[photo from See Kate Sew]…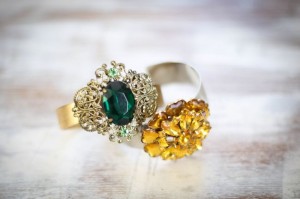 On their blog Eat. Sleep. Make. Jen and Shannon host a series called "Made It For Me" where they encourage people to make something for themselves.  In one of their posts they feature a tutorial by Stephanie from Henry Happened.  In this tutorial Stephanie shows how to turn antique brooches into wearable bangles.  Check it out and …
Leave it to Martha Stewart's weddings team to come up with a set of simple candle wraps so gorgeous. Head over to MS Weddings for the tutorial.…
A Pumpkin and a Princess shows how to make this adorable pincushion, using a berry basket, a bit of pleated trim, and a square of fabric in a cheery summer print.  Go to her blog for the tutorial.
[via Craftgawker]
[photo from A Pumpkin and a Princess]…
The Verve Stamps blog has a great video showing how to align matching dies and stamps. Lots of companies are adding dies to go with their stamp images so you don't need to cut them out, simply die cut them.
-Heather…
older posts »