Losing someone dear to you is an experience that can cast a poignant shadow, especially on a day as significant as your wedding. Amidst the joy and celebration, the absence of those who've touched your heart can be acutely felt. As you're embraced by family and friends, it's natural for your thoughts to turn to how much your departed loved ones would have cherished this moment with you. While their physical presence might be absent, their memory and spirit can be woven into your wedding in profound and heartfelt ways.
A tribute to your loved ones is like a bridge connecting the earthly and the ethereal, infusing the atmosphere with their enduring love and significance. In this guide, we explore ten beautifully touching and sentimental ideas that not only honor your dear departed but also weave their essence into the very fabric of your celebration.
Memory Table: Set up a dedicated table with photographs, mementos, and candles, creating a serene space where guests can pay their respects and honor the memory of your loved ones.
Reserved Seat: Leave an empty chair at the ceremony with a photograph or a flower, symbolizing the presence of your departed loved one as you exchange your vows.
Incorporate Their Favorite Flower: Include your loved one's favorite flower in your bouquet or as part of the decor, letting their presence bloom amidst the celebration.
Candle Lighting Ceremony: Create a moment during the ceremony where you light a candle in honor of your loved ones, invoking their memory in a poignant gesture.
Photo Charms: Attach small photo charms to your bouquet or boutonniere, ensuring your dear ones are close to your heart as you take each step down the aisle.
These tributes are more than decorations; they're a way to enshrine the love, wisdom, and cherished moments you shared. Each gesture not only allows you to acknowledge their absence but also emphasizes their enduring impact on your life.
Your wedding day is a tapestry woven from emotions, memories, and the threads of love. As you explore these ideas, remember that the essence of your loved ones is eternal and lives on in the memories you cherish. By embracing these tributes, you're creating a delicate bridge between the realms, allowing their spirit to be present, felt, and celebrated on this special day.
So, delve into these heartfelt gestures that honor your loved ones, allowing their memory to shine brightly alongside your celebration. In their absence, their presence endures, and as you embark on this new chapter of your life, their blessings and love remain steadfast, watching over you from above.
Sew a piece of their clothing into your dress/suit
Source: Pinterest
Reserve a seat for them at your ceremony
Source: Pinterest
Light a candle for them at your reception
Source: Queensland Brides
Have a photo table with old pictures of them
Source: Kim Fox Photography
Pin a picture of them to your clothing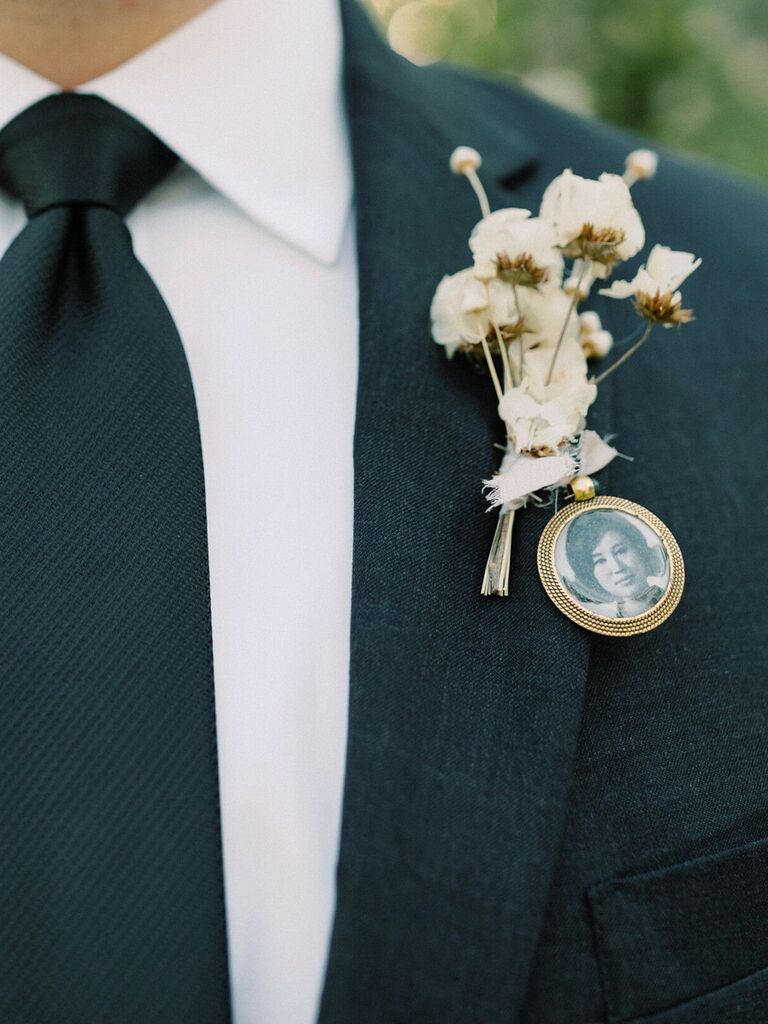 Source: Love and Covenant Photography