Weddings can be SUPER expensive. But in all honesty, there's no reason to splurge if you don't want to. The money saved from a wedding that's on the cheaper side can go towards a fantastic honeymoon or a new home or… well, anything. That's why we've compiled a list of the best wedding decor that will cost you nothing to DIY (or a couple of dollars at the most) Regardless, read on to save big bucks.
Mason jars as flower vases (via Etsy.com)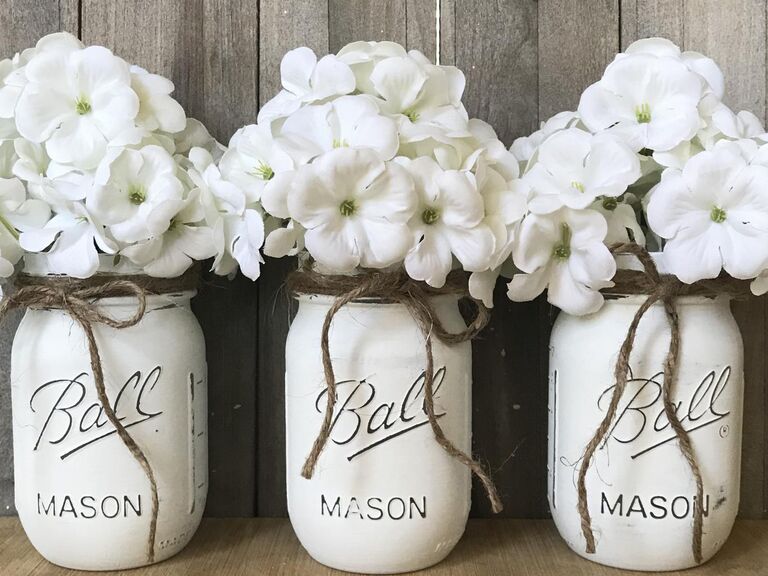 A easy way to repurpose old jars.
2. Vintage mirror as welcome sign (via brides.com)
Old mirrors are easy to source and are perfect for a more rustic wedding.
3. Vintage rugs to line the aisle (via Brides.com)
Vintage rugs can be found at any second hand store and add a boho look.
4. Vintage bicycle adorned with flowers/greenery (via hgtv.com)
An old bike would do the trick, but if not, head to a second-hand store or check on Facebook marketplace.
5. Floating centerpiece (via hgtv.com)
Try this one! Fill a plastic terrarium bowl 3/4 of the way with water and add decorative faux flowers.
6. Picture frame lantern hack (via hgtv.com)
This genius hack will save you stacks. Simply glue together four picture frames and spray paint them gold.
7. Leaf Menu (via hgtv.com)
Save on printing money and add greenery to your tables.
8. DIY Wire signs (via somethingturquoise.com)
Easier than it looks, these wire signs are inexpensive and cute. Grab the tutorial here.
9. Marbled Candleholders with nail polish (via hgtv.com)
Pretty and quick, grab the tutorial here.
10. Ladder Greenery (via Bridal Musings)
Inexpensive and adds a rustic element to any area of your wedding.
11. Numbered Twinkly Lights in Bottles (via weddinghashers.com)
Perfect for a table numbering display.
12. Wine Cork Place Card Holder (via weddinghashers.com)
Cut a slit through an old wine cork for the perfect rustic holder for place cards.
13. Book stack centerpiece (via hitched.co)
Old books make for a vintage centerpiece.