Weddings often come with the reputation of being pricey affairs, but the truth is, there's absolutely no need to break the bank if it doesn't align with your vision. Rather than getting caught in the whirlwind of extravagant spending, consider the allure of a wedding that's brimming with charm and personality, without the hefty price tag. The funds saved from a budget-friendly wedding can pave the way for a dream honeymoon, a cozy home, or whatever your heart desires. That's precisely why we've meticulously curated a collection of wedding decor ideas that are not only wallet-friendly but also radiate the kind of magic that no amount of money can buy.
In the spirit of frugality and creativity, we've gathered a compendium of the finest DIY wedding decor concepts. From those that cost absolutely nothing but your time and imagination, to those that might require a few dollars at most, these ideas exude the essence of elegance and uniqueness without the weight of financial burden. So, take a leap into a world of creative possibility and discover how you can achieve stunning decor that aligns with your heart's desire and your budget's boundaries.
Mason jars as flower vases (via Etsy.com)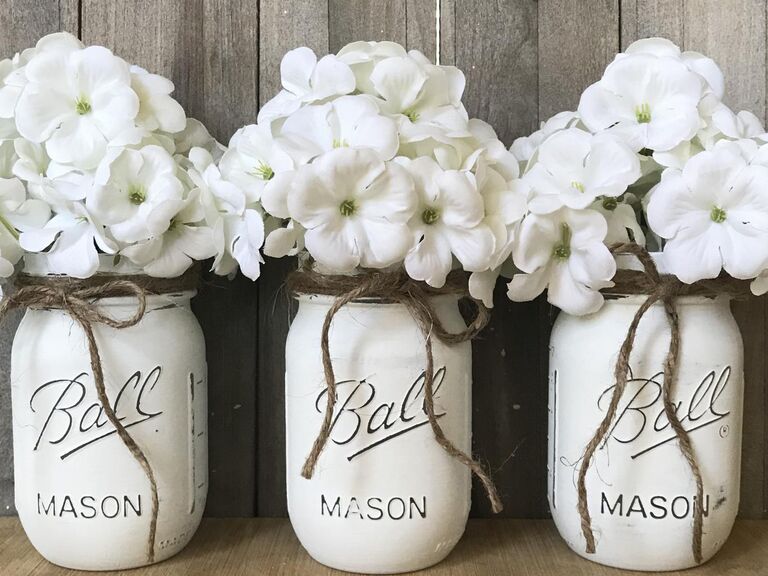 A easy way to repurpose old jars.
2. Vintage mirror as welcome sign (via brides.com)
Old mirrors are easy to source and are perfect for a more rustic wedding.
3. Vintage rugs to line the aisle (via Brides.com)
Vintage rugs can be found at any second hand store and add a boho look.
4. Vintage bicycle adorned with flowers/greenery (via hgtv.com)
An old bike would do the trick, but if not, head to a second-hand store or check on Facebook marketplace.
5. Floating centerpiece (via hgtv.com)
Try this one! Fill a plastic terrarium bowl 3/4 of the way with water and add decorative faux flowers.
6. Picture frame lantern hack (via hgtv.com)
This genius hack will save you stacks. Simply glue together four picture frames and spray paint them gold.
7. Leaf Menu (via hgtv.com)
Save on printing money and add greenery to your tables.
8. DIY Wire signs (via somethingturquoise.com)
Easier than it looks, these wire signs are inexpensive and cute. Grab the tutorial here.
9. Marbled Candleholders with nail polish (via hgtv.com)
Pretty and quick, grab the tutorial here.
10. Ladder Greenery (via Bridal Musings)
Inexpensive and adds a rustic element to any area of your wedding.
11. Numbered Twinkly Lights in Bottles (via weddinghashers.com)
Perfect for a table numbering display.
12. Wine Cork Place Card Holder (via weddinghashers.com)
Cut a slit through an old wine cork for the perfect rustic holder for place cards.
13. Book stack centerpiece (via hitched.co)
Old books make for a vintage centerpiece.