Melissa from Blank Slate Patterns and Melly Sews shares a tutorial showing two ways to modify a basic t-shirt pattern.  The first is to give it raglan sleeves (sleeves that extend from the armpit to the neckline) instead of standard set-in sleeves.  She also shows how to modify the neckline of a fitted tee to give it a loose, drapey …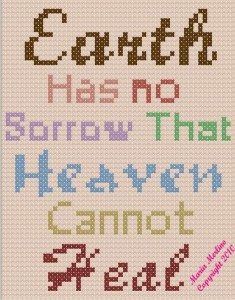 This saying from Thomas More was charted by Maria Merlino and is presented in a variety of fonts which makes it quite interesting. It will be fun to stitch and will make an inspirational gift or addition to your office or work space. The project will be a great way to use up some floss odds and ends too. Find …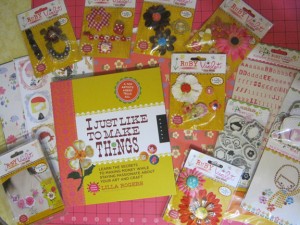 Congrats go out to Gil C. of Terre Haute, for winning a  copy of I Just Like to Make Things: Learn the Secrets to Making Money while Staying Passionate about your Art and Craft and a bunch of Ruby Violet bling!…
There's no end to the way that knitters can get stitches on and off the needles, and it's a lot of fun to play with different cast ons and bind offs to see how they change the look of a garment or project.
I recently saw a video at New Stitch a Day all about the eyelet I-cord bind off…
 Curly Pops shows how she refashioned a basic maxi tank dress.  She shortens it and gives it a vintage-inspired look with a contrasting Peter Pan collar, belt, and pockets.  Go to her blog to see how to do it.
[photo from Curly Pops]…
If you have an embroidery machine, Eileen's Machine Embroidery suggests using it to make buttonholes on your garment.  She cites the better control over length and placement as the number one reason to do this.  There's also the fact that each buttonhole will be the exact same size.  She includes a link to download an embroidery file for a standard …
Susan from Second Chances by Susan lucked out when she found a men's size 4x polo shirt at a thrift store.  She was able to turn it into this awesome striped dress.  Check out the way she plays with stripes at the hem.  Not only do they look cool, but they also add extra length to the dress.  Go to …
We've had an extremely wet Spring so far, with more rain forecast this week, so this reminder is timely! Great idea for some wall art from Ideas from the Forest . It's good inspiration for a scrapbook page too. Click here to see more.…
Delia from Delia Creates shows how to make a baby romper with elastic thread shirring/smocking at the top.  The stretchy top and tie straps give flexibility in fit.  She gives measurements to make one in a size 12-18 months, but you can adjust the cutting dimensions to make one in a different size.  Go to her tutorial.
[photo from Delia Creates]…
Dana from MADE joings the Vintage May blog series (hosted by Craftiness is Optional and Skirt as Top) with a tutorial showing how to make baby bibs out of quilted fabric placemats.  The large size and the quilted layers provide plenty of protection for baby's clothes.  And, the they slide on easily over the head.  Go to her blog …
I'm pretty sure I need to make some kind of glitter-covered topper for every cake and cupcake I make from now to eternity, because I love these. Cupcake toppers, non-toxic glue and disco dust. So smart! Find the how-tos HERE at the Layer Cake Shop blog.…
Nerdy is the definitely new sexy!! Penny Blossoms has this cute sexy/nerdy girl digi stamp to download for free. Hurry and grab her, she's only free for a limited time!
-Heather…
These are edible. No, really. All edible. And yet, I'd kind of like to wear them. Make amazing stiletto heel cupcakes HERE at Make me my Cake.…
Tyra at CraftSwag shares how she used a wooden cutlery box to organize her tools and supplies for Project Life. I guess I know what I'll be hunting for at the flea market soon! Click here to read all about it.…
Ros of RosMadeMe claims her patchwork pentagon ball bounces. Want to make one? She takes you step-by-step from supply list, drafting your own template, English paper piecing, and stuffing. Get the know-how.
Image credit: RosMadeMe…
Saaleha at Soul & Paper shows us the little folder style box that she made using a template designed by Damask Love. You can use it to hold cards, notes or photos. I love how she decorated the cover with different washi tapes! Click here to see more.…
Got batting scraps? Quilters do. Amy of And Sew We Craft shows her way to join small pieces of batting together so they're ready for future quilt-y projects. Hint, she doesn't butt them. Get the tutorial.
Image credit: And Sew We Craft…
DeDe at Designed Decor shares this idea for making friendship cards for new friends. You'll love what she tucked inside each card! Click here to see more.…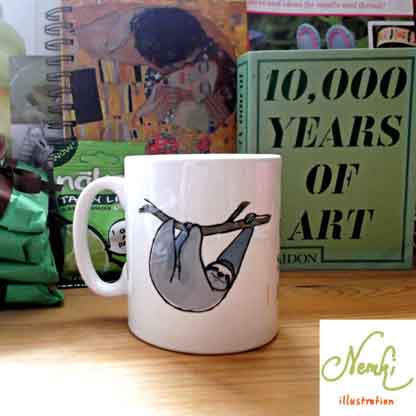 This week's featured Etsy shop is Nemki. Nemki is based out of England and sells illustrated accessories. What does that cover? Everything from baby bibs to coffee mugs to iPhone cases. Nemki artist Namie claims most of her inspiration comes from the natural world and it's visible in the subject matter. Whether you prefer a cute llama tote bag or (my …
Doc McStuffins is one of the latest Disney crazes swooping across backyard parties.
These images from "CatchMyParty" are adorable and the candy floss "stuffing" could be used for other themes too.
Check out these free printables we featured earlier in the year.
Here are some other useful links.
Party Favors from About.com
Free Doc McStuffins Paper printables Below from DisneyFamily…
I've seen many sun catchers in the last few years of doing this blog. But I have yet to see a 3D sun catcher stained glass house…until today! This tutorial is incredible. I love the way the sun shines through this little home! You can find this incredible little craft over at Pink Stripey Socks! …
I'm just starting to go over the letters that are in my two year olds' name with him. This would be a great activity for him to see and recognize his name! Head over to Thrive 360 Living for the info!…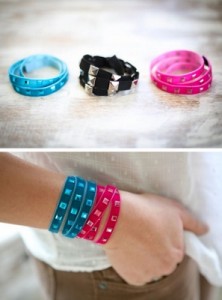 I like the look of these bracelets. Stephanie from Henry Happened shows how these bracelets are made using some trim and studs. Learn how easy it is to make these Trim Wrap Bracelets.…
I'm so excited to announce the winner of our  SpiceBox Friendship Bracelet Kit 
GiveawayComment # 13:
Zan wrote: "I would give it to the little girl next door. She is a sweetie and would love to make these!" Congratulations Zan! I will be sending you an email shortly!…
Melissa Mortenson from Fourteen May and Polka Dot Chair shows how to make a maxi dress.  My tween-age daughter would love this!!  And it looks to be a quick & easy sew, too.  The bodice and sleeves are a basic t-shirt, with a contrast casing and skirt sewed to the bottom.  Go to her blog for the tute.
[photo from …
« newer posts
—
older posts »