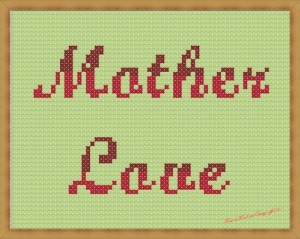 Here in the US, we celebrate Mother's Day on May 12th. If you are looking for a project to celebrate your Mother's Love, then here is a perfect one. It spells it right out. Nothing is more precious than a mother's love anyway, is it? Get the free chart.…
So many DIY details to love in this pretty yellow and gray wedding featured at DIY Bride! I love the gorgeous cake and the framed name favors, but there's much more inspiration to swoon over! Check it all out here.…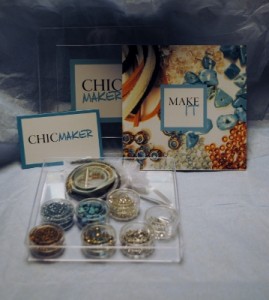 The three winners of the Chic Maker Kit Giveaway were chosen at random and notified today! Thank you to Chic Maker for providing these awesome kits to our winners.  Thank you to each and every one of you who participated in the giveaway and for the feedback on what type of posts you would like to see here on the …
I think chevron is one of those pattern rages that should be a rage. It's just plain interesting to look at. I expect its hotness won't cool down any time soon. Find a great tutorial for decorating a cake in the chevron style using a paper template HERE at The Art of the Wedding Cake.…
Head on over to Paper & Stitch to get your hands on instructions for making these uber-modern tea light holders.…
As its first foray into mobile browsing, Craftsy announced today that it has launched a free app for the iPhone that will allow users to browse — but not buy — knit and crochet patterns.
So far the app is only for knitting and crochet, and users cannot buy patterns directly in the app because Craftsy would have to pay …
Anne from Wobisobi shows how to make this off the shoulder ladder V-neck t-shirt.  It's refashioned from a plain boxy tee like you can get from a craft or discount store.  (Use a shirt at least one size too big to get the drapey look.)  She also shows how to cinch up the ladder neck to create a butterfly effect.  …
There's still another day for teacher appreciation week! Or, bookmark these for the end of the school year. I made packages of pencil cookies for the staff at my daughter's charter school. And I even made up this handy dandy printable for ya' to make it easy to say "thanks". Find the pencil cookies for teacher with free printable HERE …
I never knew the marvels of Babybel cheese and its possibilities for food art until I met Cute Food for Kids. Make these darling Babybel tulips for Mother's Day, and find links to 30 more edible food ideas HERE at Cute Food for Kids.…
For those of you in the Southern California area check out the current line up of glasses at Pacific Art Glass in Gardena. Roger Thomas and Patty Gray and Michael Dupille and all the way from Italy, Lucio Babucco. And let's not leave out a day with Devon Willis from Bullseye Glass talking about reactive glass. Roger and Michael are …
Marissa from Rae Gun Ramblings shares a tutorial over at Keeping It Simple showing how to make a simple jellyfish finger puppet.  The body is made from felt, with ribbon streamers stitched to the bottom.  They're quick to make.  In fact, she made them with kids as a birthday party craft.  Go to her tute.
[photo from Rae Gun …
Images of these gorgeous cake stands landed in my inbox recently and I loved their elegant simplicity! These beauties are a limited edition collection from Sarah's Stands and can be purchased here. These lovely stands come in a variety of colors and are made from durable carbon steel so they can be cherished for a lifetime. Check out …
Jen from iCandy Handmade updates her Favorite Tee Dress pattern with a revamp of the neck and hemline.  The updated version has a banded v-neck and a hi-l0w hem.  She includes a free pattern to make the dress in a women's size medium. (If you need another size, the original Favorite Tee Dress tutorial includes instructions for drafting your own.)   Go to her tutorial.…
Some craft projects are so easy you may ask yourself, why didn't I come up with this. This could be one of those that I found through Facebook and then Inhabitat and finally over at Photojojo. You use glass jars to frame pictures. Take some of the jars you've been saving to put stuff in and put photos in …
Check out this little purse with ric rac straps.  It's actually a pocket appliqued down to a little girl's dress.  How cute is that!  A purse and pocket combined!  Hayley from Welcome to the Mouse House guest blogs at Mama Says Sew with a tutorial showing how to make one.  Go to her tutorial.
[photo from Welcome to the …
This handy man digi stamp is perfect for Father's Day cards. Make one for your handy dad with this freebie from Birdie Brown. Hurry it's only free the month of May!
-Heather…
Justine of Mucho Color lets her cat check out her freshly sewn bed quilt. It's a simple one patch, a perfect choice for a quick project or quilting newbie. Her blue color palette is nice and cool. Love it!
She shares (in Spanish) how she did it. Get the tutorial.
Image credit: Mucho Color…
I love this idea for a little bouquet made from washi tape. The technique involves using beading wire and pipe cleaners. This could be a cute gift or decor for Mother's Day! Click here to get all the details.…
Dads, this one is for you! If you are looking for a gift idea for your kids to make their mom try out this idea from Hands On As We Grow. The kids can help make these flower cards using paper they paint themselves. They will need some supervision from you though, as there is cutting involved. Click here …
This Mermaid Birthday Party is another one of my own setups. My daughter wanted an Ariel party but I didn't want an over the top Disney party so we met here in the middle.
Everything was DIY. From the mermaid skirts and seashell hairpiece  to the treasure chest (old shipping trunk) and even the jelly fish hanging from the ceiling were made …
This is a reminder post! We are holding another Silhouette Portrait Giveaway on the Stamping blog. Make sure you enter this giveaway for your chance to win this fabulous machine.
Click here to leave a comment and get your entry in! Hurry! Ends 13th May.
…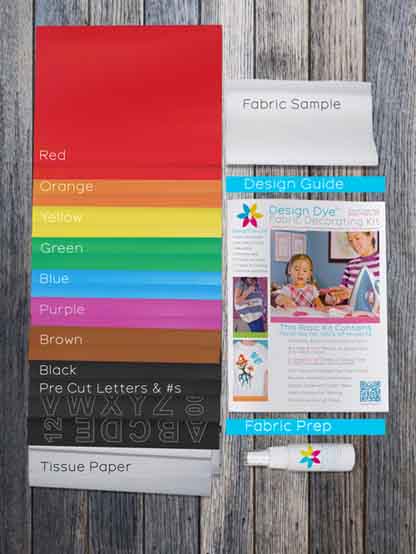 As promised, here is your chance to get your hands on a Design Dye Basic Fabric Kit, just like the one I reviewed (missed that? Check it out here and here). The Basic Fabric kit includes everything you need to begin dyeing fabric and creating awesome projects!
To win, leave a comment on this page telling me what kind …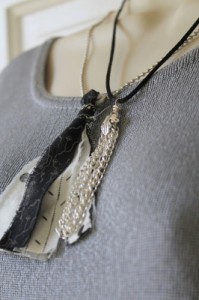 This tutorial is brought to us by Kimberly Kohler who provides step-by-step instructions for making two very unique tassel necklaces. One necklace is made using pretty fabric, and the second chain! Take a look and be inspired to make your very own unique Tassel Necklace.…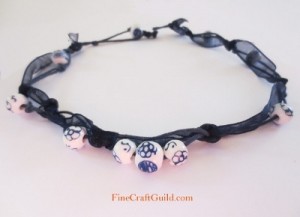 You might have noticed that lately I am fascinated with friendship bracelet tutorials, this tutorial features friendship jewelry, but for your neck instead of your wrist!  Take a look at this tutorial that teaches you to make a knotted friendship necklace. …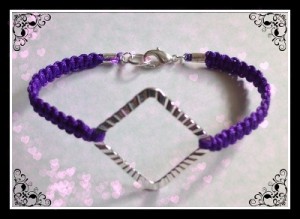 The designer of this bracelet describes it as "a twist on a square knot friendship bracelet."  I agree!  Siobhán Keogh does a wonderful job at giving clear photos and step-by-step instructions on making this Diamond Knotted Cord Bracelet. Check it out.…
« newer posts
—
older posts »