I remember these pink fuzzy slipper cookies  made from Nutter Butters well. I shall remember this updated, too-cute bunny version for years to come, too. Make pink fuzzy bunny slippers from Nutter Butters HERE at Hungry Happenings.…
Use your scrapbooking tools and supplies plus some cupcake liners to make these cute bunny tail mason jars for serving cool drinks or Easter treats. or just use the bunny tail embellishment on a page or other Easter project. Click here to see more from Uncommon Designs.…
You know, for bunnies. For Easter bunnies. Or for the kids. Or me. Turns out this frozen yogurt-from-yogurt trend can be adapted for pretty much any holiday or occasion. Make frozen yogurt bunny bites HERE at Mighty Delighty.…
Lowri from PaperVine explains how she made this bouquet of lollipop flowers. Perfect for an Easter treat! Click here to go to the tutorial.…
Make this adorable bunny card with the instructions and free template from Katie at Punk Projects. Instead of a card you can use the template to make a page embellishment. Click here to go to the tutorial.…
I feel like I should be saying "tushy." It's the parent of a kingergartener thing. Go healthy. Make a fruit bunny butt HERE at Kitchen Fun with My 3 Sons. But back to the sweets. Loving this Peeps brownie patch. Notice the bunnies face down or digging into the "dirt."
…
Learn how to embellish foam eggs for Easter with this video tutorial by Linda Walsh. Use them to make a garland or as place setting for your Easter meal. Click here to go to the tutorial.…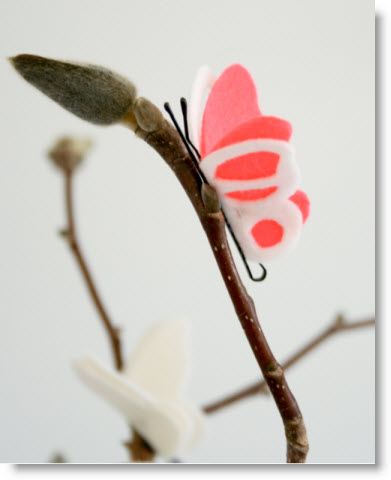 Around this time of the year Molly of "Purl Bee" starts to crave color like she craves chocolate, potato chips, or coffee! It's supposed to be spring, but outside, it is relentlessly cold, cloudy and gray. So she created these Bobby Pin Butterflies, wearable bursts of color meant to usher in sunnier times.  I know just how she feels …
Can I also add the adjectives "darling" and "super-cute"? Because I'm loving this DIY Easter bunny pinata. I dare say this is my favorite new Easter craft I've spotted this season. Tuck some candy-filled, plastic eggs inside and you have a new Easter tradition. Find the instructions to make this guy HERE at Studio DIY.…
Hop on over to Diane's Digital designs and download this adorable bunny, just in time for Easter.
-Heather…
I never tire of handmade candy bracelets for the kids, because you creative folks always come up with some arrangement I've not yet seen. (Maybe as an activity to keep them busy on Easter day?) Make these oh so pretty candy bracelets HERE at Uncommon Designs.…
Eggs aside, just scroll through this post of beautiful photographs that welcome spring with their vibrant pinks. But the pickled eggs, in their said vibrant pinks, are worthy of a visit, too. Find the recipe HERE at Little Food Junction.…
Well, yeeehaaw… It doesn't surprise me in the least that Peeps are adventurous. (Yes, I call skateboarding adventurous.) Make Peeps on cookie skateboards HERE at Sweet Simple Stuff.…
To answer the question, "Do you know you can bake cookies in hard candy molds?", the answer is "No, I did not." But this opens up a world of possibilities, yes? Find more information and how-tos HERE at Hungry Happenings.…
The venerable Martha Stewart continues to show beautiful projects. These candles are a great DIY for your Easter table. And best of all, they are really disposable. This seems like a great  way to break into candle making for the uninitiated. The whole post is on Martha's site here. …
I was a little greedy last week, stealing the spotlight with my adorable knit Easter basket pattern, so I thought I'd even the score a bit this week by sharing some more projects for super cute knit baskets for Easter and beyond.
This pretty, easy Easter basket from Kaity Fraker is a free Ravelry download that includes the pattern for …
Just in time for Easter, Karen of The Graphics Fairy shares with her readers this 1830s French Natural History rabbit print. I could see this as the center of a table runner or long pillow. No doubt, my project would include some patchwork! Inspired to make something yourself? Go to the free download.
Image credit: The Graphics Fairy…
Jane of "Buzzmills" has the sweetest Easter tutorials for her "Spring Chicks" and her "Mini felt bunnies"! She has complete instructions for both projects with pattern templates and they will dress up your Easter baskets or tables.  Check out Jane's site because she always has the cutest projects for us.  Thanks Jane for sharing with us.…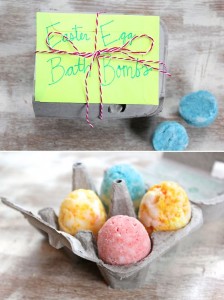 My bath bombs have traditionally, well, bombed. But I'm definitely going to give these a try because the packaging is just so fun. Stephanie at Henry Happened shares her secrets for shaping, coloring and storing. Find it here.…
Hello Lidy made this adorable, adorable, adorable set of dipped wooden egg candle holders. How wonderful would these simple beauties look on an Easter dinner table? Grab the DIY.…
Really pastel. Like, perfectly pastel. And perfectly Easter. And it's popcorn. Not just for Halloween now… Make pretty Easter popcorn HERE at The Enchanted Oven.…
And on a sweet bed of dirt, too. It would be so easy to eat my carrots this way. Make carrot cupcakes in an edible carrot cupcake wrapper HERE at Hungry Happenings.…
I'd like to point out a couple of things here. 1. These are totally manageable to make. Easy even. 2. The combo of dyed cookies and icing layers make these look like cute versions of real carrots. 1 plus 2 equals genius. That's what I had to point out. Make them HERE at She Knows, from Project Denneler.…
So it's officially Spring up here in the top half of the world, but is it still, say–hold on, let me check the weather–34 degrees where you are, too? Spring, yes, hot cocoa weather, yes. Luckily, you can make bunny hot cocoa-on-a-stick with carrot marshmallows. Ah, I wish hot cocoa weather would last the year through (really, I do). Note …
'Tis Springtime and all the world's a Peep. As in, Peeps are everywhere, and the good people at the factory must be skipping with glee. (Or, they are exhausted, as this is the busiest time of year.) A plethora of more Peeps ideas from The Vintage Umbrella: Like Peeps Rice Krispies Treats packaged perfectly as favors, HERE. Or …
« go back
—
keep looking »