You know those piles of plastic Easter eggs you still having sitting around? (I'm looking at my pile right now.) Keep them around for Cinco de Mayo. Check out this oh-so-smart idea to turn them into candy-filled sombrero cookie hats. Find the instructions HERE at hoopla palooza.…
Still have some leftover Easter candy in the basket? Seriously? Stiiiillll? Well, if there are any Cadbury cream eggs in there, here's a yummy way to use them up. Make Cadbury Cream egg, perfectly arranged, brownies HERE at In Katrina's Kitchen.…
Easter is over but eggs are also a symbol of Spring, so you could totally still make these confetti eggs! Or just pin the idea to use next year. The tutorial comes from Stephanie at Henry Happened.…
So I missed these for Easter, but I'm so smitten with the idea of these, I'm going to call these cute chicks "for Spring" instead. You see, this is sugar on a spoon. For your coffee. Or tea. See why I'm smitten? I'm thinking beyond chicks now, too.  And these would be darling for a baby shower. Make them HERE …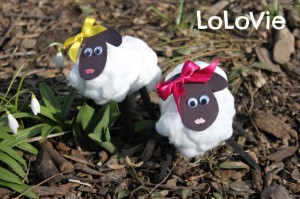 Baaaahhhhhh! Pop on over to the blog LoLovie to see the full tutorial on how to make a recycled paper tube sheep.…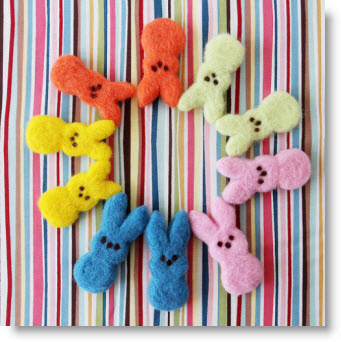 Is it ever too late for Peeps, never!  I could not cheat you out of this darling posting.  "Needle-Felted Peeps: Hand-Crafted Easter Treats"! Known as "Radmegan" Megan has been crafting, baking, cooking, drawing, sculpting and gardening since she could hold a crayon.  You can find Megan on her blog "Radmegan in Words & Pictures.  You can find her peeps in …
Still swimming in eggs after yesterday's celebrations? Laura at Make Life Lovely shares how to make these marbled Easter Egg Candles with real egg shells.…
Have a wonderful Easter!!
-Heather
(card made by me using Character Constructions stamp  colored with Prisma colored pencils)…
But not just any Easter egg cookies. Easter egg cookies in a three dimensional Easter egg shape. Now that's something new. Find the recipe and how-tos HERE at Cupcake Project.…
We're already sen some rainbow Easter eggs. How about some two-toned ones? Make these double dipped eggs HERE at C'est maman qui l'a fait (Instructions in English, too). Perhaps something colorful to do with your after-Easter collection of eggs?…
Amy Christie posted this cute tutorial for stamped egg shaped place cards. It's sweet and simple so you could totally do it in time for Easter. I'd probably make the little holder out of clay too, using the same template as for the cardboard.
Picture by Amy Christie of this heart of mine…
Now this is a clever idea that extends beyond Easter. I've already bookmarked as a must-try baking trick. Make origami bunnies from parchment, fill with cake batter and bake. Love it! Find the how-tos HERE at Testado, Provado e Aprovado!. (Translation tool available.)…
This lesson plan has a ton of great ideas that you can use this coming Spring. Many of the ideas such as this egg word match game can be used with different subjects and topics! You must had over to The Nature of Grace where you can find not just this Spring themed plan, but tons more topical lesson themed …
How fun are these interactive little Easter characters? Your kids will love going to the table where these are set up and constantly turning them over to see the 'sparkle rain'. You can find the full how to over at Two Kids Cooking & More! …
Ok, so its really a box..but you can use your imagination. If you have a boy who truly loves camouflage, why not have them entertain themselves by making their own Camo Easter Basket? You can find the how to over at Make It Easy Crafts. …
Here is a fun simple way to teach your children cutting techniques and also have something cute to hang on the wall for Easter decoration! You can find the tutorial over at Katydid and Kid. …
From my favorite, clever macaron maker, comes more macaron adorableness. This time with a little something extra underneath. Make chick macarons sitting atop trifles HERE at raspberri cupcakes.…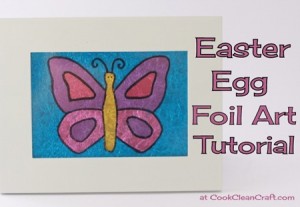 Pop on over to the blog Cook Clean Craft to see a really innovative technique on how to make recycled foil art. It is almost like fabric applique!…
I must admit, I was never overly concerned with Mickey until I visited Disney World last year. Ever the cynical skeptic, I thought I'd merely survive the trip for the sake of my 4-year old. Well, dagnabbit, wouldn't you know it, but I'm now a Disney convert. They run that operation pretty impressively. It could actually be the happiest place …
You know how I mentioned that whole Nutter Butter trend thing? Well, these lambs are far and away my favorite Nutter Butter-turned-cute-pop so far. Maybe because I'm a fan of Shaun the Sheep. Find the how-tos to make your own Nutter Butter sheep cuteness HERE at Hungry Happenings.…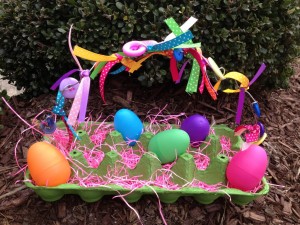 This is a great idea and tutorial on how to make an egg hunt basket that allows each person to collect the same number of eggs. Hop on over to the blog Laura Kelly's Inklings to follow her easy tutorial on how to make an egg carton egg hunt basket.…
Chrissie with Harvest Moon Papiere shares how to use a masking technique to show movement with your stamped images. This leaping bunny is so cute!
-Heather…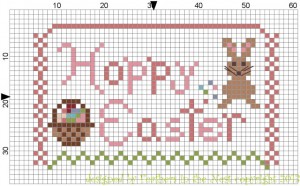 Over at Feathers in the Nest, Jennifer has posted a cute little Easter project that is small enough to finish in time for the holiday. It is so sweet with a bunny and a basket and will make a great card or ornament. Get the free chart.…
See? I told you the Nutter Butter was taking over the world. Think of all the time you'll save skipping the cookie baking part. Make these silly funny bunny Nutter Butter faces to "wear" HERE at Munchkin Munchies. And if you want to go bigger and do the whole baking thing, remember these bunny face pops from yesteryear.…
Could you possibly make a Dum Dum any cuter? No. No you can not. Craft an Easter Bunny lollipop favor from Dum Dums and pipe cleaners and inexpensive supplies from the craft store HERE at The Mother Huddle.…
keep looking »