I laughed, audibly (some of you say "lol"), at this one. Nutter Butters turned into heels. Make them HERE at She Knows, from Project Denneler.…
If you love the look of wrapped canvases, take a look at the DIY version from COSCO Industries. The DIY Canvas Wrap kit retails for $29.99 and includes the supplies to create three wrapped canvases using your home printer.
The kit is compatible with ink jet printers that have the borderless printing feature, and the canvases measure 9.5 inches …
If you need a bit of sock inspiration to take on the go, check out the latest issue of Sockupied, the interactive sock knitting magazine from Interweave.
This season's issue includes a look at small knitting bags you'll want to take on your travels and beyond, a collection of self-striping sock yarns and tutorials for a variety of ways to …
So all I need to do to make a donut cake is pile donuts and add a candle. Consider it done. Make a donut cake HERE at babble, inspired by A Cup of Jo.…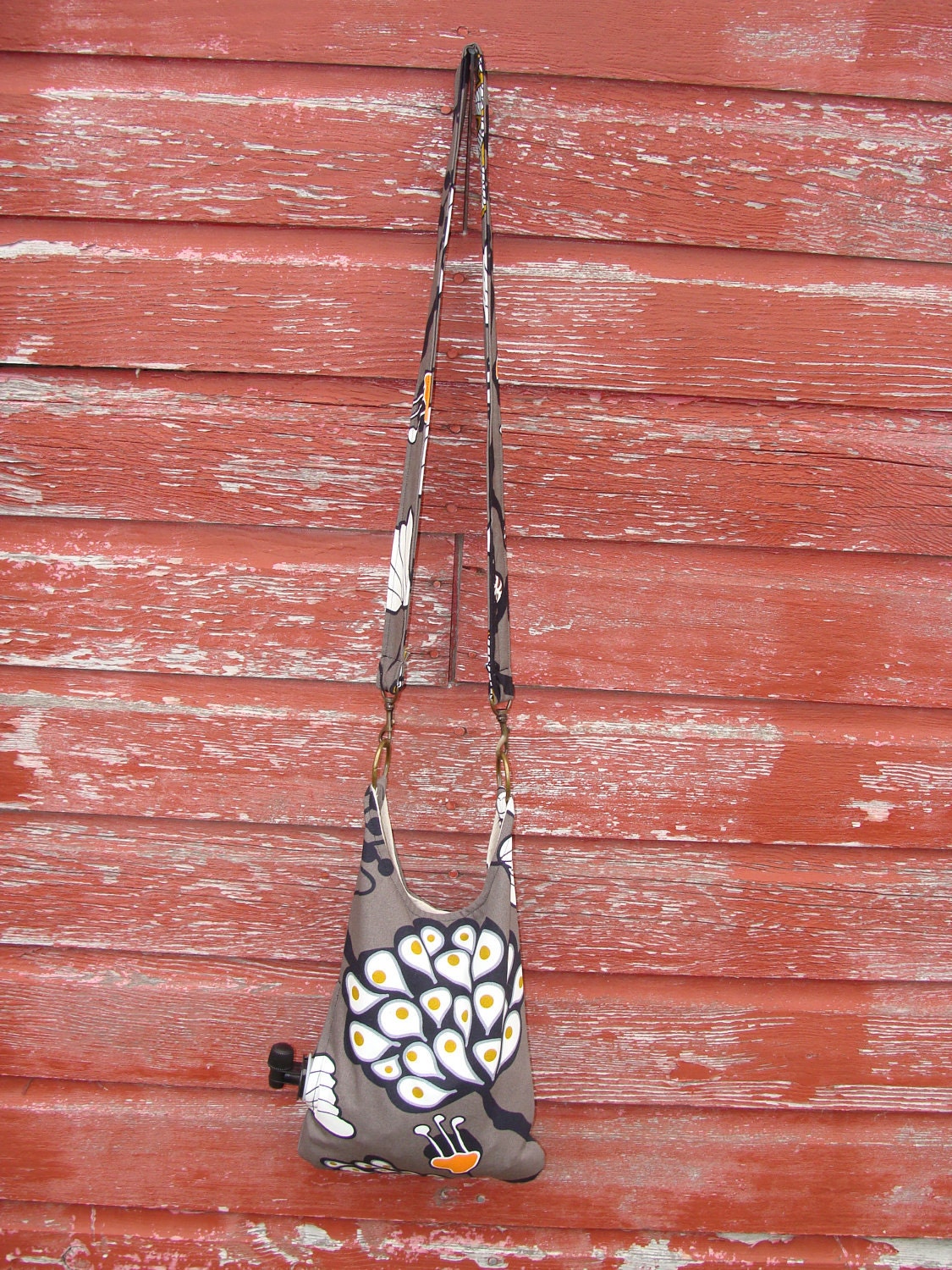 There are a few wine purses going around the internet at the moment and even ELLEN featured one. But rather then go with the flow (pun intended) I have decided to showcase this beautiful Handmade Wine bag complete with refillable bladders. W2Handbags have several designs and they sell for $50.00.
I think these wine purses would make a beautiful hostess gift. What …
Creating your own custom envelopes is a cinch with the Kreate-a-lope® envelope template!  Nick Romer, the creator of these handy templates, sent a couple of sizes for me to try out and review. I received the A2 standard invitation size and the A7 size template. You can check out the Kreate-a-lope® Video for all the details on how …
Do you have a party to plan for?  Need some ideas and inspiration? Tell us your party theme below and we will feature some great inspirational ideas to get you started.
If you don't have a parting coming up then maybe you just have a great party post idea or website to share.
…
1. Christian-Louboutin designer champagne slippers. Shoes and Champagne kinda go together but not literally.
2. Inside out Martini Glasses. Stylish and easier to store as well.
3. Plastic style wine glasses - A little quirky! Not sure my guests would appreciate the "plastic" humor.
4. Bombay Sapphire tree branch glasses- not sure my dishwasher would approve of these.
Simply Precious Pop-ups is a new book filled with loads of fun do it yourself pop up cards. There are more than 50 different designs for all occasions from birthdays, Mother's and Father's Day, gradation, holidays and many more. You'll find color examples for the cards along with a pattern of each for you to copy . Lay the copy over top a …
So these "tacos" are completely adorable, but made with all store-bought ingredients and look super easy to make. As in, mere minutes easy to make. Also, the recipe contains the phrase "To make the ground beef, mix 1/2 cup chocolate frosting with 1/2 cup crushed chocolate Oreos." What's not to love? Make cookie and candy tacos HERE at She Knows…
Candy.com – Old tin lunch boxes $12.95
My 5 Year old started School this year which brought up fond memories of my school years. One of those memories was carrying around an old tin lunch box.  I can't recall for the life of me what the character was and it's surprisingly bugging me. If I ever go into deep hypnosis therapy this will …
This is a progress report – for my Chocolate Diet Challenge (Read about it here)
If you haven't been following the challenge, it is basically a meal replacement diet program for 8 weeks. The fun part is it's all themed around chocolate.
Taste:  I like the taste of the meal replacement shakesthe berry ones are really nice too. I just …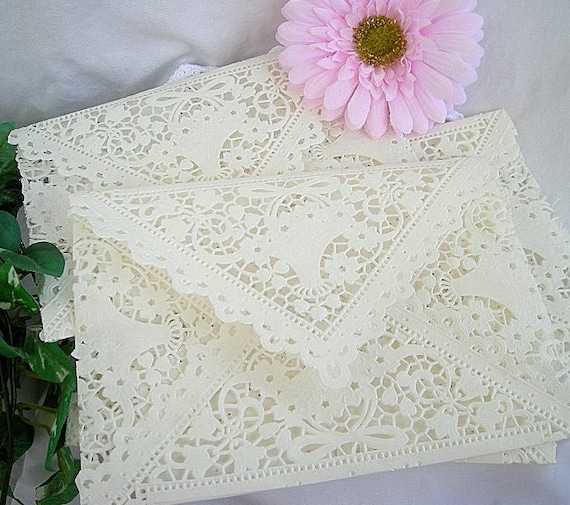 Image by AllThingsAngelas
These Vintage Lace Envelopes are adorable – Created by All Things Angelas they sell for $35.99 for 20 in her Etsy store. These would make a lovely addition to a high tea invite or shabby chic wedding.…
Last week a received the brand new A Muse Studio Catalog and Inspiration Guide. It's fulled with wonderful stamping and scrapbooking products including loads of new stuff like 31 new stamp sets, 11 matching dies (so you can die cut your stamped images perfectly every time), new Petite Pin Stripe cardstock, tons of fun party supplies (like straws, baker's …
I'm loving all the details of this mini brownie garden. Dress up store-bought brownies with who-woulda-thought-it toppers (like green colored Frosted Flakes lettuce and Mike and Ike's carrots) HERE at Party Pinching.…
Why, it's a sweet, yummy rainbow of pride. May be too much filling for my taste, but gosh, I love this. And you can make these yourself with some Oreos, dental floss and food coloring. Find the step-by-step how-tos to make Oreos for Gay Pride HERE at Instructables, by Carleyy.…
I actually cupped my hand on my mouth when I glimpsed these. Should I admit that? Seems lame. But I love these. Jellybeans turned expressive birds on a wire? And easy to decorate graham crackers? See why I'm so lame? Make them HERE at Sugar Swings!.…
And Eggos are on my daughter's short list of "foods I eat." The guru of cool food for kids, especially breakfast, seems the perfect person to create seven days of fun morning meals (and snacks and lunch and dinner and dessert) to make with Eggo waffles. Check out the Eggo birds on nests, chicken and waffle kebabs, monkey banana splits, …
This over the top but adorable Lapaloopsy Party is by Adriana de Almeida Teixeira Bauman of Preparativos Lulu
(source Via Karaspartyideas).
I think my next party should be Lapaloopsy themed and just as colorful, girly and manic as this. (hint hint)
For a full view of all the original and creative ideas visit the Preparativos Lulu folder on facebook. …
  This Drip Snagger from  Current Catalog is so simple it's crazy. It retails for $5.99 but I   am sure you can see it looks very similar to a cut down soda bottle.
No more spills on the table or worse on the floor, the only downside I can see to this is   it will only hold …
You know how I mentioned that whole Nutter Butter trend thing? Well, these lambs are far and away my favorite Nutter Butter-turned-cute-pop so far. Maybe because I'm a fan of Shaun the Sheep. Find the how-tos to make your own Nutter Butter sheep cuteness HERE at Hungry Happenings.…
See? I told you the Nutter Butter was taking over the world. Think of all the time you'll save skipping the cookie baking part. Make these silly funny bunny Nutter Butter faces to "wear" HERE at Munchkin Munchies. And if you want to go bigger and do the whole baking thing, remember these bunny face pops from yesteryear.…
Move over Twinkie (oh right, you already did), Nutter Butters are taking over the world, I think. Turn them into chick pops HERE at Sweet Simple Stuff. …
Oh, now that's just cruel. You're messing with someone's Dunkin' Donuts. I guess that's what April Fool's Day is all about. Make a Dunkin' Donuts turkey meatloaf dinner HERE at Kitchen Fun with My 3 Sons.…
Do you like to iron?  I don't!  But, from time to time, ironing is necessary.  From pressing a crease in my slacks to blocking an almost completed crochet item, I much prefer to work with an iron that will put out a lot of steam, heat up quickly, has a good selection of heat settings, and is easy to …
« go back
—
keep looking »