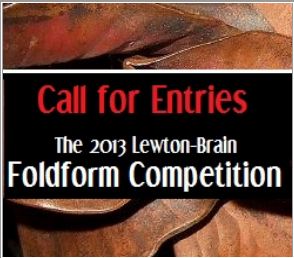 The Center for Metal Arts is located in  New York.  They have specialized in technique and process in metal arts since 2003.  Offering hands-on workshops located in the 1890′s Bordens Creamery Icehouse in the black dirt farming village of Florida, New York.
Right now you can enter  the 2013 Lewton-Brain Foldform Competition. Sue Lacy explains, "it's a great opportunity for metal …
I have to share with you, dear readers, this fabulous collection of cupcake recipes and party ideas, hosted by Carrie Middlemiss from Bella Cupcake Couture and Betsy Eves, of JavaCupcake.com & Cupcakes Take the Cake. A group of 20 bloggers (myself included) joined together to dress up our cupcake wrappers. And even better? There's a giveaway of over 500 dollars …

COUSIN ANNOUNCES CALL FOR APPLICANTS FOR CREATIVE CIRCLE AMBASSADOR PROGRAM
Five New Ambassadors To Be Selected To Join The Inaugural Group
FOR IMMEDIATE RELEASE
LARGO, Fl., May 10, 2013 – Cousin Corporation of America is pleased to announce a call for applicants for the Cousin Creative Circle™ Ambassador program for the 2013-14 term. Cousin is a premier manufacturer of …
This is so freaking cool. Hold your own Marshmallow party. But only if you live in Australia!
Go and enter here.
…
The Dremel® Lawn & Garden Kit is a comprehensive rotary tool kit, which includes a Dremel 100 Series tool, along with three sharpening attachments and seven accessories for lawn and garden needs.
And you can win one of your own from our sister site, Craftbits.com. Go here to enter the giveaway!…
Heads-up! There's an awesome new embroidery contest at Urban Threads! Their e-newsletter says,
Each machine embroidery design on Urban Threads comes with a list of the colors we used to stitch it out. While we're happy to provide 'em, we're well aware that most of you chuck the list right out the window and give the designs your own

…
The two winners of the Precious Pop-Ups book are…… Barbara M. and Mel Sparkles!! Congrats! Please respond to the e-mail I sent you and your new book will be on the way.
Thanks to everyone who entered!
-Heather…
…..Angie Menning! Congrats Angie you've won the Silhouette Portrait giveaway! Please respond to the e-mail I sent you.
Thanks to everyone who entered!
-Heather…
Get It Scrapped is five years old! To celebrate they are running weekly giveaways. This week you can enter to win a gift certificate for $50 worth of digital scrapbooking supplies AND a 2013 membership to Masterful Scrapbooking Design. All the details on how to enter can be found here.…
Look What I've Made is a new website where you can share your latest craft projects with other crafters worldwide. You can upload projects, and browse the site to see what others have made. As a special offer new members who sign up and upload at least one project, will be entered into a draw to win a basket of …
Congratulations to the winner of the Panasonic "dream iron". Patti wrote  on April 8, 2013 1:56 pm the following comment:
I have never had an iron that I actually liked, but that is mostly because of the annoying cord. Would love a cordless one, but the ones I have seen are really expensive and how much money does one

…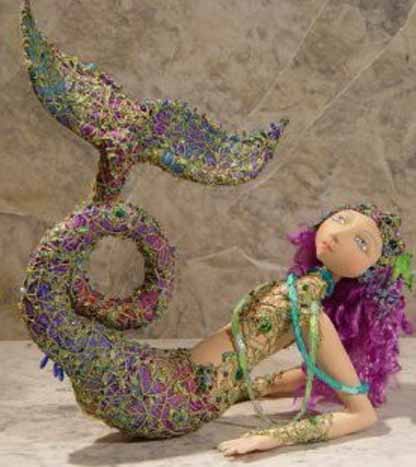 If you need an excuse to craft up a super fun mermaid doll, then you need to head over to Doll Street and check out their Doll Street Challenge! To enter, all you need to do is craft up a doll, either from an original design or from a pattern purchased from Doll Street, upload three photos before August 15th, …
A while back I told you about the Fiber Factor, a knitting design competition that will pit 12 designers against each other and the clock for a chance at a trip to Germany for the big winner.
The contestants were announced over the weekend, and it looks like a fun, diverse bunch. There are two guys among the 12, …
……..Lorie Parker! Congrats Lorie! Please respond to the e-mail I've sent you. And thanks to everyone who entered!
-Heather…
I was just cleaning out my e-mail and realized I hadn't yet shared with you that the application period for the Beans for Brains scholarship from Jimmy Beans Wool closes on Sunday, March 31.
The scholarship, in its fourth year, is a merit-based scholarship of $3,200 and is awarded to five crafty students at accredited institutions of higher learning (undergrad …
Jane of QuiltJane shares on her blog how to make this quilt block as part of Having a Starry Time Blog Hop. In its construction she used HST paper. Visit her blog post to get the tutorial plus check out the quilt she made with all her Starry Time blocks called Cosmological. I love it!

Note: Enter her …
Kerry of PennyDog talks on her blog about her latest finish, a Stephen Fry quilt. Each square of fabric represents a pixel in the portrait. She explains,
It looks better from a distance (not because the squares don't always line up, more because it actually looks like Stephen Fry from further back)…
Finally, to give it a more modern look, …
Kathy Munson!! Congrats Kathy, you've won the Savvy stamps and dies giveaway! Please respond to the e-mail I've sent you.
Thanks to everyone who entered!
-Heather…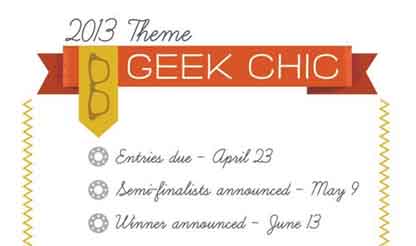 Alright closet textile designers! Here's your chance to design a collection of fabrics for Robert Kaufman Fabrics! The Fabric8 2013 contest is accepting entries now through the 23 of April. To enter, you must register with Spoonflower and upload your take on the theme "Geek Chic". The grand prize winner not only gets the chance to design a line of …
Paula Gilarde is currently running some specials for classes from Debbie Hodge of Masterful Scrapbook Design and Get it Scrapped. Your purchase of the latest self-paced class: Tension, Story, Focus and Flow, will earn you an entry into a giveaway for a full refund, plus an additional class. Paula also has a special 40% off code you can use to …
This gorgeous kit from Hydrangea Hippo is up for grabs! Entries will be accepted until March 30th 2013. US residents only for this one (sorry international friends, I feel your pain!). Click here to go enter.…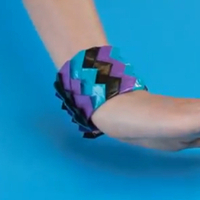 Over at Craft Foxes there is a great video tutorial on how to make this cool Duct tape bracelet along with info on the Duct tape prom dress contest along with links to inspiration!…
These quilted fabric cards are gorgeous! Made by Beret Nelson who blogs over at On the Trail Creations, you have one week to get a chance to win the pattern and possibly one of these chickadees. All because she's participating in the Quilting Gallery's Blog Hop starting today and running through March 14. Go HERE to enter Beret's giveaway…
This is just a peek at an amazing work of fiber art by Leonie of Stitching with Attitude. Motivated by a challenge to create an artwork in any medium inspired by a science fiction novel, Leonie got her first taste of scifi, Wool by Hugh Howey. She interpreted the post-apocalyptic theme by shredding batiks and recomposing them into a …
Sharon from Crafts 'n Coffee explains how to make these French Vintage inspired Easter eggs. She is also holding a giveaway where you can win some of the supplies to make them. Entries close March 10th 2013. Click here to see more.…
keep looking »