If you're dreaming of a magical wedding day filled with vintage charm and sweet surprises, be sure to grab a copy of Tinkered Treasures by Elyse Major! This lovely book is brimming over with ideas including more than 35 handmade projects that will add a touch of whimsy to your wedding celebrations and beyond. I've long been a fan …
Stefanie of Craftside gives us the rundown on their book The Complete Photo Guide to Needleworkby Linda Wyszynski. And as a special treat, she shares a page of the book that demos how to stitch ribbon rosebuds. Check out the review and tute.…
Go check out my review of Crafty Girls Talk by Jennifer Forest.  There's a giveaway at the end!!  Giveaway ends Wednesday, January 30, 2012.  Go there now for the review and to enter.
…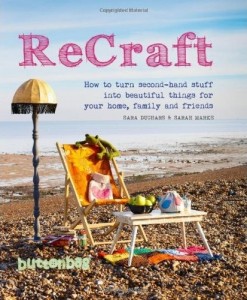 You know the term "page turner"? I know it's usually used in the "word book" world but that is exactly what ReCraft: How to Turn Second-Hand Stuff into Beautiful Things for Your Home, Family and Friends is. It is packed with fun and easy projects along with great tips like how to make holes in plastic toys.  And to …
We have a new reference book out there for those of you interested in learning more about glass and setting up your studio. The Glass Artist's Studio Handbook by Cecilia Cohen, published by Quarry, covers stained glass, fused glass and lampworking and is very comprehensive. You get quite a bit of solid information about setting up your studio, what tools …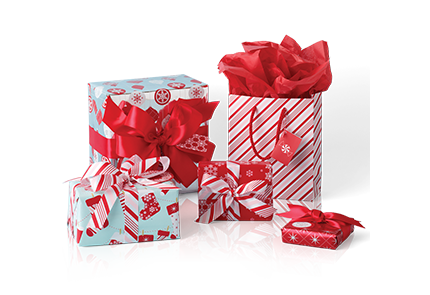 Okay folks, it's almost Christmas. You have finished wrapping most of the presents, making all the cookies and picking out hostess gifts. Suddenly you realize you don't have any pretty packaging for the cookies or you've run out of labels. Staples sent us some pretty gift wrap from their Martha Stewart Holiday Line to check out and tell you about.…
Enjoy the video review by Sara of Crafts of Texture of Hand Stitch Perspectives by Alice Kettle and Jane McKeating. Sara says,
I think this is a great reference book for any professional, or craft student who is passionate about hand stitching.
You can win a copy of the book or, if you don't happen to win, Sara offers a …
 Stick It! 99 Duct Tape Projects,  by T.L Bonaddio RRP $12.95 US/ $15.00 CAN)
If you have always wanted to get into the Duct tape craze and stick something together then this is the duct tape DIY bible. There are 99 projects with color photos and cute instructional drawings (illustrated by Andrew Tomlinson) to show you just how to …
At least it feels that way. Yowza to the bundles of books being given away from Quarry Spoon and Craftside. All your holiday baking, candy making and DIY gift giving is covered in these book prizes. For the first giveaway of books (which include cookbooks on pasta, candy making, brewing, pie, cocktails, cake decorating and making stuffed animals–see? I …
Every day for the month of December, the lovely Katrina of In Katrina's Kitchen is hosting a blogger to share a yummy holiday treat. You can keep tabs on the cookies HERE at the I'll Bring the Cookies page.
I even got invited to the party! I made gingerbread cookie rings. You can find the recipe HERE …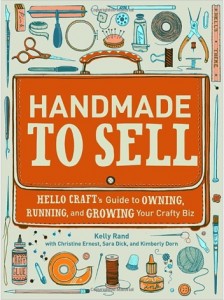 First you make stuff, then people say they love it and you make stuff for other people. The next step, sell it!  But how to do it? Well Handmade to Sell  is the book for you! It covers just about every aspect of selling the cool stuff you make! I read it cover to cover and the resources are …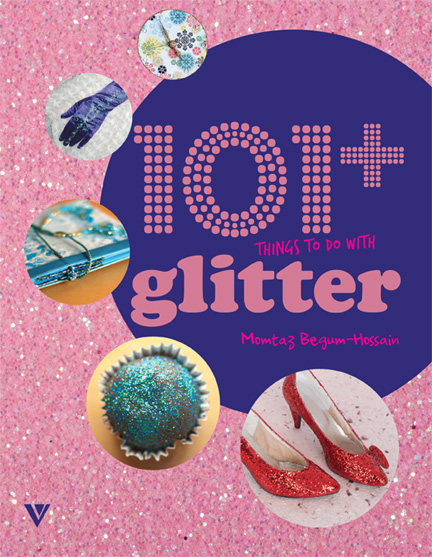 I'm a girl who appreciates the fine art of glittering everything. So when my copy of 101+ Things to do with Glitter by Momtaz Begum-Hossain showed up in my mailbox, I was pretty excited.  101+ is a thick book practically bursting with fun glitter projects.
The first 29 pages of the book are your basic primer, catching you up on the history …
A friend recently gave me this book.  She doesn't crochet (or knit) and has little knowledge of other needlearts, but she's quite good at choosing books!  This one is a keeper.  It's small enough to tuck in a bag and fun enough to experiment with a variety of stitches.  Not only is each stitch pattern in the book accompanied …
Each issue of Bird's Party Magazine just gets better and better. The Winter Issue is now out, and you can find links to both the free online edition and the paper copy to purchase HERE. To quote myself when I yakked about the issue on my own blog, "You'll find ideas for a Winter Wonderland, parties from Hollywood to …
Craft Activism: People , Ideas, and Projects from the New Community of Handmade and How You Can Join In is such an inspiring book! If you have ever made anything then you know how good you feel after. Even better if you give it away to someone who needs it! Or if you teach someone how to do something…I could …
I love scrap crochet projects!  How did I miss this publication that was published for Spring, 2012?  I'm glad I finally got my hands on it.  It's worth the list price ($9.99) just for the afghans and scarves, but there are plenty of other projects here, from a tissue box cover to baby booties to caps, bottle covers, and hot …
I love books like Journal It! Perspectives in Creative Journaling that include art and design from multiple designers because you get so many different styles. I have come to grips with the fact that I rarely can achieve the same look as another artist and quite frankly I really shouldn't want to, but having control of the outcome is empowering. …
Have you seen this book?  If you need a square or other block patterns to crochet, this is a great source for patterns.  I found this book at the library during one of my routine visits there.  I carried it home to peruse despite the fact that I typically hate to join squares.  But, I am a sucker for pretty …
Just thought I'd spread the word that I'm giving away one signed copy of my book, Sugarlicious, as well as some other Sugarlicious prizes, oven mitts, aprons, spatulas… And, I'm giving 5 winners some cookie cutters to get them through the holiday season. For details and to enter the giveaway, click HERE to go to the decorated cookie.…
Are you a fan of Brett Bara?  Have you seen her as the host of Knit and Crochet Now! on TV?  I love that show!  Now, she's gathered 25 quick projects into one book for all of us to have on our bookshelves.  As I thumbed through this book, I fell in love with a few things right away.  First …
This is such a charming book that if you craft gifts other than crocheted, you'll want to nab a copy of it for yourself.   Many of the projects are fiber based, but there is also knitting, paper crafting and some sewing.  As for crochet, there is the cutest amigurumi reindeer, a homey granny square garland, and an adorable Santa Kit …
This month's featured author is an amazing one, Amy Krouse Rosenthal. Any book you check out from the library of hers will not disappoint you. You can get so many inspiring ideas by heading over to the Virtual Kids Book Club at The Educators Spin on It.    They, along with many other co-hosting bloggers, have a link up with a …
I know I'm not the only one who has put a knitting project down for much longer than I intended to, thinking that I would remember where I was in the pattern when I got back only to have no clue at all when I look at the knitting again where I'm supposed to start (please tell me that's not …

The Trick or Freaks is an original Halloween experience that explores the sheer horror  of NO CANDY, while revealing the true spirits of Halloween. But this book isn't just another Halloween story it is a handmade book ( $10 ) and features a black vellum cover and recycled craft paper pages. Each cover is completed with unique orange paper swatches, …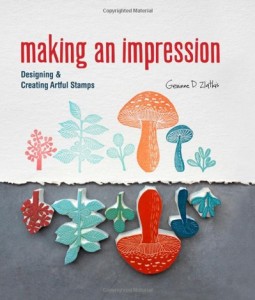 If you're like me and fall in love with an image and then want to put it on everything you own, making your own rubber stamps is a great option. The tutorials and techniques in Making an Impression: Designing & Creating Artful Stamps are just what you need to do it! Making an Impression covers all the basics you need …
« go back
—
keep looking »